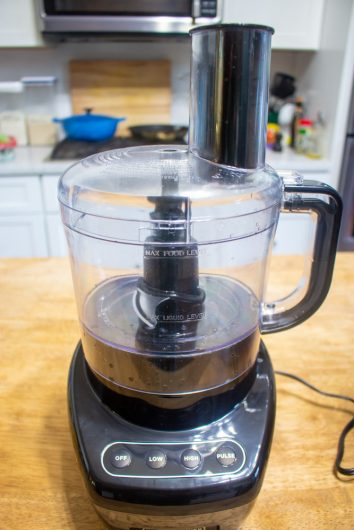 When it comes to food processors, price isn't always commensurate with quality.  As proof, consider my 12-cup capacity, $250 Cuisinart food processor. It bit the dust last week, after less than three years of use! Rather than buy another expensive processor, I decided to give the low-cost Black and Decker 8-cup model a try. Would you like to see what this $37 baby can do?
Unlike the current crop of high-end food processors, the Black and Decker is really easy to assemble and use. It's easy to clean, too. The work bowl and lid are free of annoying nooks and crannies where food particles like to hide. And how does it perform? I gave it the following workout:
To test the chopping blade, I dumped a 28-ounce can of plum tomatoes into the processor's work bowl…
And received a perfect tomato puree in about 5 seconds.
Then I grabbed a bunch of parsley stems and leaves…
And stuffed them into the work bowl.
A 5-second blitz produced finely-minced parsley!
To test the slicing ability, I simply peeled and quartered a big onion…
And then sliced it up on the slicing disk.
The slices were thicker than I'd usually want, but that's okay. I can always use my mandoline (or a sharp knife) to make ultra-thin onion slices.
Onto the shredding disk, which, rather conveniently, is the reverse slide of the sliding disk! Here, I took a brick of Cheddar cheese…
And fed it through the machine's feed tube.
The Black and Decker shredded the cheese as well as — if not better than — my pricey Cuisinart did. In other words, it did not leave big chunks of un-shredded cheese atop the slicing disk.
How'd the Black and Decker handle pie crust? To test, I threw some flour, salt, and butter into the work bowl…
And then pulsed the machine exactly 5 times.
Next, I sprinkled some water over the butter and flour mixture…
And let the machine run until a crumbly mass emerged (about 30 seconds). Unlike my Cuisinart, the new machine did not leave any dry (read: unincorporated) flour at the bottom of the bowl. Hallelujah!
Anyway, I formed the crumbly dough into a ball…
And then rolled it out on my pastry cloth.
The dough is currently residing in my freezer, pressed into a removeable-bottom tart pan. Later, I will fill it with…something.
Because of its incredibly low price, I'd always assumed that the Black and Decker was a piece of junk. Boy was I wrong! (Then again, I thought the TV series Schitts$ Creek was a piece of Schitt$ until I got to Season Two. By the final season, I was madly in love with the series, and cried inconsolably when it came to an end.)
So perhaps we shouldn't judge a book by its cover-price. If the $37 Black and Decker (model #FP4200B) lasts half as long as my $250 Cuisinart did, I won't complain!
So what size and brand of food processor do you currently own? Does it live up to your expectations? Talk to me in the comments field below. I'm all ears!
Enjoy this feature? Get my email updates.