Last updated on February 25th, 2016
Uh-oh. This morning, during my daily inspection of the too-many gardens here, I discovered a fiendish fat woodchuck in the fenced kitchen garden. The object of Woody's affection? Sweet potato leaves. Overnight, he practically devoured the entire crop.
I watched the voracious varmint escape the garden the same way it probably entered: by squeezing its rotund body beneath the wire-mesh fence. He seemed offended when I screamed "MERDE!" at the top of my lungs.
If that word offends you, too, please accept my apology.
Sweet potatoes were an experiment this year, so their destruction is particularly unnerving for me. Would you like to see the crop's rise and fall?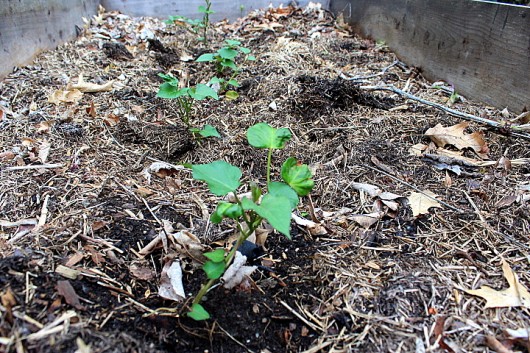 In late-May, I planted several rooted sprouts, or "slips" in a raised bed.
The vines grew with the speed of Jack's infamous beanstalk.
By late-July, the greenery had filled the bed, and spilled over its sides.
How I looked forward to harvest-time, when I'd dig up bushels of fat orange tubers! I'd bake 'em. I'd boil 'em. I'd use 'em in this awesome Bubble and Squeak.
But Woody the Woodchuck had other plans. He reduced the crop to little more than a series of leafless sticks.
Is this crop beyond all hope? Maybe yes, maybe no. Woody didn't touch the vines that had extended beyond the bed, so perhaps there are sufficient leaves to provide nourishment for developing tubers. Only time will tell.
In an effort to thwart Woody's wicked ways, I took a break from writing this post, and purchased a bottle of animal-repellent from a local garden center. The product contains putrescent eggs that are mercifully masked, for human noses, with the pleasant scent of peppermint. Per the directions on the bottle, I applied the spray along the perimeter of the fence, and also on the ground around the sweet potato bed. In a future post, I'll let you know if the product works as promised.
Meanwhile, let me know if woodchucks are a problem in your own garden.  Misery loves company.
Don't miss anything at A Garden for the House…sign up for Kevin's email updates.
Related Posts:
Angelic Zucchini Fritters
Blueberry Streusel Strata
Tomato Pie