Last updated on April 15th, 2020
This Whole Orange Almond Cake recipe comes to us from James Beard. I decided to audition the cake for the following three reasons: 1) it's gluten-free, which means Mr. Fox can eat it; 2) the recipe is invitingly weird, and 3) I'll try anything! The cake is moist, slightly crumbly, and sensationally scented. One whiff and I was transported to a citrus orchard in sunny Provence.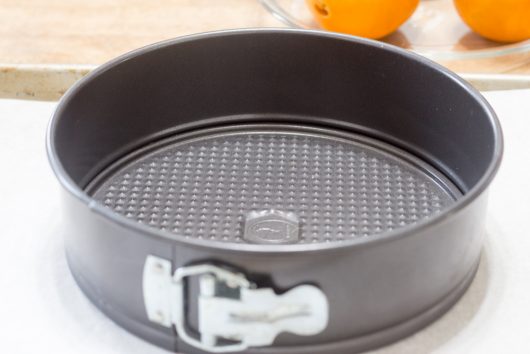 A note about the cake pan: Mr. Beard's recipe directs us to "butter and flour a deep 9-inch cake pan." Since my cake pans are all standard depth, I used a 9-inch springform pan. And instead of greasing the pan with butter and flour, which would mean adding gluten to the recipe, I simply sprayed it with non-stick spray. The sprayed pan worked out just fine.
Whole Orange Almond Cake Recipe
Grab 2 navel oranges (about 14 ounces in total) …
And plunge them into generously-salted boiling water. Cover the pot and let the fruit boil until perfectly soft — 30 minutes to 1 hour. Drain and let cool. UPDATE: The longer the fruit boils, the less bitter it will be.
Cut the oranges into quarters, and remove seeds (if you did not use Navel oranges, which are seedless).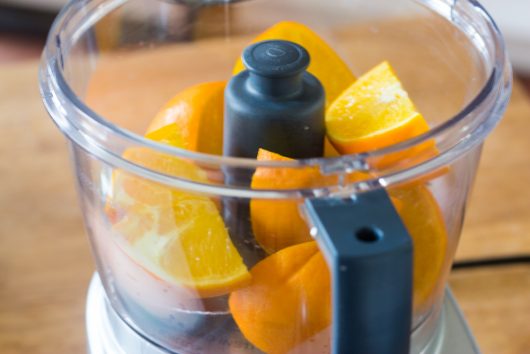 Then toss the orange segments into a food processor…
And grind them to a fairly fine puree.
To make the batter, break six large eggs into a large bowl…
And beat them until they turn pale and thick. Update: There's no need to use a standing mixer for this batter. A large bowl and wire whisk will work out just fine!
Beat in 1 cup of sugar…
A generous pinch of salt…
1 1/2 cups almond meal (UPDATE:  I now use 2 cups almond meal)…
1 teaspoon baking powder…
And the orange puree.
Pour the batter into the prepared cake pan…
And bake it off at 400°F until golden and firm. Beard said "about 1 hour," but my cake was done at the 50 minute mark. Transfer the cake to a wire rack and allow it to cool. UPDATE: I now bake the cake for a full hour, and cover the pan with aluminum foil when the batter starts to darken after 45 or 50 minutes.
As anti-disaster insurance, run a plastic knife between cake and pan.
Then release the cake from its springform prison.
Plate the cake, and, if you wish, shower it with confectioners' sugar.
As I mentioned earlier, this cake smells like a citrus grove in Provence. It has a moist, slightly chewy crumb, thanks to the bits of orange peel in the batter. Although I detected a hint of bitterness from the orange pith, Mr. Fox did not.
As a matter of fact, Mr. Fox thought the cake was pure heaven! He ate two big slices for dessert last night. And this morning, he devoured another fat slice for breakfast.
Think you'll give this Whole Orange Almond Cake recipe a try? Talk to me in the comments field below. And if you do make the cake, please post your review!
Hungry for more? Get my email updates.
And…here's the printable:
Print Recipe
Whole Orange Almond Cake
A moist, citrus-scented cake that is entirely gluten-free. The recipe is adapted from James Beard.
Equipment
a buttered and floured (or non-stick-sprayed) 9-inch-diameter springform pan
Ingredients
2

navel oranges

about 14 ounces in total

6

large

eggs

2

cups

almond flour

Pinch

of

salt

1

cup

sugar

1

teaspoon

baking powder

Optional: confectioners' sugar for dusting
Instructions
Center the oven rack; preheat the oven to 400°F.

Bring a large pot of salted water to a boil. Add the oranges to the boiling water, cover the pot, and let the oranges boil until perfectly soft -- 60-90 minutes.* Drain, cool, and cut the fruit into quarters.

*The longer the fruit boils, the less bitter it will be.

Put the quartered oranges in the bowl of a food processor. Process to a fairly-fine puree.

In a large bowl, whisk the eggs until pale and thick. One ingredient at a time, whisk in the almond flour, salt, sugar, baking powder, and the orange puree.

Pour the batter into the prepared pan, and bake until firm -- about 1 hour. (Hint: check the cake after 45 minutes. If the batter is turning dramatically dark, cover the pan loosely with aluminum foil, then continue baking.) Transfer the pan to a wire rack to cool. Run a plastic knife between pan and cake, then release the cake onto a serving platter or cake stand. Dust with the optional confectioners' sugar.
Video
Nutrition
Calories:
294
kcal
|
Carbohydrates:
34
g
|
Protein:
10
g
|
Fat:
14
g
|
Saturated Fat:
2
g
|
Cholesterol:
158
mg
|
Sodium:
61
mg
|
Potassium:
167
mg
|
Fiber:
3
g
|
Sugar:
29
g
|
Vitamin A:
316
IU
|
Vitamin C:
21
mg
|
Calcium:
105
mg
|
Iron:
2
mg