Last updated on December 29th, 2019
December Garden Tour. Does your December world look like mine? On Sunday, a powerful blizzard dumped 12 inches of snow on my garden. Still more snow — six inches at least — arrived on Monday. Wanna see Clover Hill when it is buried beneath 18 inches of confectioners' sugar? Take a short, refreshing stroll with me:
December Garden Tour
Warning: You're gonna need knee-high boots for this tour. You'll need thermal underwear, too, and perhaps a bourbon-filled flask. You know, for medicinal purposes.
Swoosh! Here's the boxwood garden on Sunday afternoon, shortly after storm #1 arrived. How…quaint.
The same garden offered more drama on Monday, just before storm #2 arrived.
The same garden on Tuesday morning, after both storms had depleted themselves. Where's my boxwood? What happened to my fountain? And why is there a snow cone in the center of this picture?
The front yard. I may have found the secret to a carefree lawn.
A PeeGee hydrangea shivers before the Music Room window. You can visit the music room by clicking here.
Here's my bedroom window. Focus carefully, and you will a ghost peering through the curtains. Or maybe that's just a smudge on the glass.
The west wall of the Music Room, and a view of the north hill. We shall not ascend the hill today. It's too steep, and I'm afraid you might slip and drop your flask.
Onto the Herb Garden! Please note the newly upholstered furniture against the clapboard wall.
And here's a view of some snow-fringed subjects on the north hill. That's Malus 'Royalty' on the left, and winter-flowering Witch hazel on the right. The latter subject opens its fragrant flowers in late January or early February, no matter the bitter weather. What a generous shrub!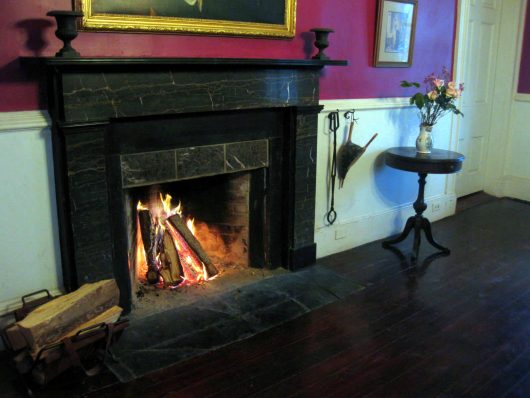 And that concludes our little tour of 1313 Mockingbird Lane Clover Hill. What's say we head indoors? There, in the dining room, a roaring fire awaits.
Also on hand are some just-baked Buttermilk Biscuits. As we sit and nibble, please tell me what's going on in your own December quarters. Got snow? Or are you blissfully basking beneath a palm tree in 90-degree weather?
Whatever your December surroundings, talk to me in the comments field below. Also, let me know if want the recipe for the aforementioned Buttermilk Biscuits. I'm happy to share. UPDATE: click here for my Buttermilk Biscuit recipe!
xKevin
Hungry for more? Get my email updates.