Last updated on May 29th, 2019
(Updated for 2019.) IF YOU VISIT ME THIS SUMMER, I'll gladly give you a tour of the Kitchen Garden (above). This "living supermarket," which I designed in 2007 on a shoe-string budget, produces bushels of organic veggies.  It's an EASY garden to maintain.
Location. The garden is perched at the top of a very steep hill (the same hill I would later carve into a  Serpentine Garden), because the land there, unlike the rest of property, is fairly level. The patch receives full, blazing sunshine — a necessity for most vegetable crops.
The only problem with the hilltop perch? It borders a forest. A forest filled with frolicking forest creatures who love fresh veggies as much as I do. Consequently my first mission was to erect a fence around the plot in order to keep deer, rabbits and woodchucks from devouring my efforts.
Fencing. A fence does more than keep critters out of a garden. Aesthetically, it makes a frame for the horticultural portrait within. My fence was built cheaply and effectively with pressure-treated posts and galvanized wire mesh. The mesh is 4-feet tall. That's a height that deer (well, my deer, anyway) will not bother to jump.
Raised Beds.  Make no mistake — the easiest answer to compacted, rocky, or poor-draining soil is a raised bed. I built  eight  4'x8′  beds out of  rough-hewn hemlock, and placed four along each edge of the garden. Hemlock is naturally rot-resistant (as is cedar, oak, and redwood). In the center of the garden, and framing a path, are four 2'x8′ raised beds. These, pictured above, were made from inexpensive untreated pine. Although pine is not resistant to rot, it can last a long time. Mine are still holding up after nearly 5 years.
UPDATE, January 2017: The hemlock frames — now in their 10th year — are in remarkably good shape.  Meanwhile, the pine frames have rotted beyond repair. I'll replace the pine boards when spring arrives.
Soil.  Vegetables love a soil that is loose, fertile, and well-draining. You can't go wrong with equal parts top soil, well-rotted manure, and sand. I purchased this very blend from a local farmer, who also delivered it.  If you want to take vegetable-growing seriously, you will do well to splurge on good soil right from the start.
Shredded Leaves. To insure continued fertility, and also to refill the beds after soil has settled, each November I top off my beds with shredded leaves.  To help the leaves decay over winter, I lightly sprinkle them with cottonseed- or alfalfa meal, which is high in nitrogen.  Thus my purchase of soil was only a one-time affair.
And did you know that decomposed leaves hold a tremendous amount of moisture? It is shredded leaves that make this garden a "water-wise" garden.
Related Post: how I shred my autumn leaves.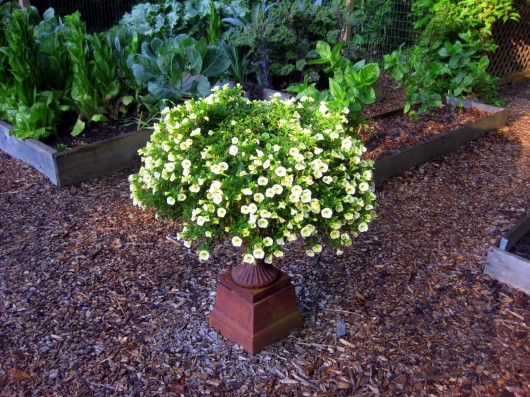 Walkways. Paths are essential in a veggie garden, and they must be wide enough to accommodate a wheelbarrow. To make my walkways, I first covered the existing sod with cardboard. Then I poured a thick layer of shredded wood over the cardboard. True, shredded wood must be refreshed every year or two. But I obtain this material for free, just as you can. Shredded wood makes a very cushy surface to walk upon.
The Shady Seating Area. To my mind, every garden needs comfortable seating in the shade. Consequently I built at the rear of the garden a pergola, and placed a pair of Adirondack-style chairs beneath it.  The pergola was made from nothing more than pressure treated posts and some lattice. Six 2x4s nailed to the top provide overhead support for the hardy kiwi (Actinidia arguta) which clamors up the sides and over the top, while shading the seating area beneath.
The Lack of Weeds.  Not an issue in this garden are weeds. Why? When my veggie seedlings reach 5 inches in height, I  mulch them with a thick layer of either shredded leaves or chopped straw. Furthermore, veggies in raised beds can be planted very closely together. This means their foliage eventually shades the soil, which further discourages weeds, and helps to reduce moisture-loss.
Flowers for beauty and bees. Colorful flowers are a must in any veggie garden, for they attract the insects that pollinate the crops. Over the years this garden has seen such honey bee magnets as  Bachelor Buttons…
cascading petunias and 'State Fair' zinnias…
and cosmos 'Rose Bon-Bon.' All these are very easy to grow from seeds. You can even winter-sow them.
The veggies I've grown in this garden are too numerous to mention. But you can see pictures and detailed accounts of them (as well as their cultural requirements) by clicking this link.
I hope I've convinced you to design your own Kitchen Garden. Raised beds are not difficult to make, and just think of the fresh produce you'll harvest!
Hungry for more? Get my email updates.