Squirrels stealing your bulbs? Don't get mad — get creative! These bulb-digging bandits are easily outwitted. You simply have to learn how to think like…a squirrel.
My name is Kevin, and I am…The Squirrel Whisperer.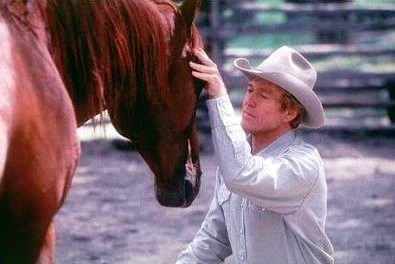 Please don't confuse me with Robert Redford.
Squirrels Stealing Your Bulbs? Here's Help.
Did you know that squirrels are not fond of bulbs? They forage for nuts, seeds, gin martinis (straight up; no olives) and berries. (The squirrel pictured above is eating the red berries that grow on my yew-hedge.)
But Kevin, if squirrels don't like bulbs, why do they dig them up?
I'm glad you asked! Here's my theory:
When a squirrel stumbles upon freshly-dug earth (the result of your bulb-planting adventure), he or she assumes that another critter has buried a stash of nuts there.  So the squirrel retrieves the loot, tastes the loot, and then tosses the loot. This explains why we sometimes find  bulbs dropped here and there in our yards. Usually the bulbs will show a single bite mark.
Consequently, to keep squirrels from messing with your bulbs, it pays to…
1) Cover Your Tracks.
One autumn, after squirrels dug up some newly-planted crocus bulbs (or "corms") in my Woodland Garden, I decided to perform an experiment: I planted more crocus bulbs in the same location as before, but this time…
I covered my work with shredded leaves.
The result? Because they sensed no soil-disturbance there, the squirrels left the bulbs alone. The crocus were gorgeous when they bloomed in spring.
The shredded-leaf trick also worked for some tulips I'd foolishly planted in the Woodland.
I say "foolishly" because…
When the bulbs bloomed the following spring, the flowers were promptly devoured by deer.
Sometimes you just can't win.
2) Plant Bulbs Beneath a Low-Growing Groundcover.
The tulip bulbs I plant every few years beneath a bed of Vinca minor in my Serpentine Garden (pictured above) are never disturbed by squirrels. Why? Because squirrels are lazy. They won't dig in a bed that's encumbered with lots of stems and roots (or a piece of chicken wire, which we will discuss in a moment).
3) Plant Large  Bulbs Deeply.
Because squirrels won't dig more than a few inches beneath the soil surface, it makes sense to plant your large bulbs deeply. Tulips can — and should — be planted 8 inches deep.
4) Use Chicken Wire.
Large public gardens (including Dumbarton Oaks) use chicken wire to protect large swaths of bulbs. There are two ways to employ the wire: Lay it directly atop the bulbs, and then cover bulbs and wire with soil; OR, cover the bulbs first with soil, and then add the wire, pegging it down with rocks or bricks. With the latter method, the wire can be removed when the bulbs sprout in spring.
5) Sprinkle Deer-Repellant Granules Over the Bulb Bed
According to some gardeners, the same smelly granules that keep deer at bay will also thwart squirrels. I have not tested this method, and thus can not vouch for its effectiveness.
And What About Red Pepper Flakes? For me, these are an absolute no-no. Red pepper won't stop squirrels from digging. But it will burn their eyes if they come in contact with the stuff. And that's just cruel.
6) Plant Squirrel-Proof Bulbs!
If the above 5 recommendations prove too much work for you, then consider planting bulbs which emit an odor that no squirrel can endure.  These include:
Alliums of all kinds…
Daffodils and other members of the Narcissus family…
Hyacinths…
And  Muscari ("grape hyacinth").
In the comments field below, let me know how your autumn bulb-planting is coming along, and if squirrels are an issue in your neck of the woods.  As always, I cherish  your thoughts.
Hungry for more? Get my email updates.