Last updated on December 31st, 2013
HERE'S A DILEMMA YOU MIGHT BE FACING — What to do with the hyacinths, tulips, and other bulbs you forced for indoor winter-bloom.  In truth, some of these bulbs are worth keeping for future enjoyment outdoors. Others, not so much. Here's how I determine the fate of my own, myriad forced bulbs, and how I care for the keepers:
What I toss:
Bulbs forced in water. This may sound heartless to you, but I do not keep bulbs which were forced in water (including my vased 'Blue Jacket' hyacinths, above). Why? Because water-forcing zaps most of their strength, and consequently increases the odds that they will never bloom again. (Ditto for bulbs which were forced in pebbles and water.)
Tender (tropical) bulbs. I toss my tropical Narcissi, too. These are hardy only in zones 8-10. I live in (frosty) zone 5-b. Still, because of the gorgeous color and scent they bring to my window garden, I don't mind buying the bulbs year after year.  Pictured above is the sweetly-perfumed 'Winter Sun' — my favorite among the tropical narcissus clan.
What I keep:
In my experience, Dutch bulbs — if they were forced in soil — can have a fine future in the garden outdoors. Dutch bulbs include crocuses, like the 'Golden Yellow' variety that bloomed in my bathroom window one February…
And tulips (that's 'Sunny Prince' above, a remarkably-fragrant variety)…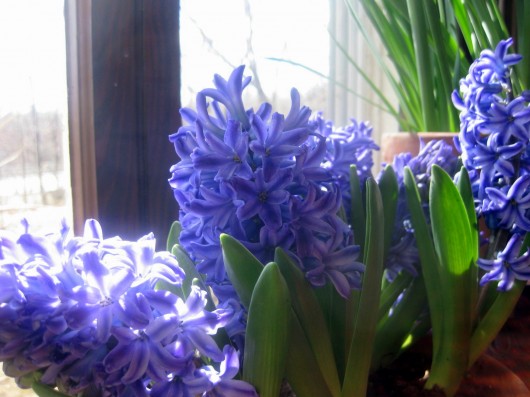 And hyacinths, with their legendary scent…
And the tiny, blue Puschkinia, which blooms in my Music Room window each February, and beneath a crabapple tree each April…
And all kinds of cold-hardy daffodils, including the heavenly-scented Narcissus 'Erlicheer' pictured above.
To make these bulbs worth saving, it's essential to care for them after their blossoms fade. Cut off the dead flowering stalks, but do not remove the green foliage. Foliage is necessary for photosynthesis — the conversion of sunlight into sugar. Provide full sun, cool temperatures (65 degrees maximum), and plentiful food and water.
After several weeks have passed, yellowing foliage will signal the bulb is ready for a rest. Withhold all food and water.
And by the way, a tulip with yellowing leaves is not an attractive sight in a window garden. I let my bulbs ripen their foliage under a fluorescent light unit in my kitchen.  Mercifully, my kitchen is not on "public" view.
Once the soil has dried out, cut off the withered foliage. Then remove the bulbs,  and place them in a paper sack filled with sand, sawdust, or some other dry medium. Or, do what I sometimes do, and let the bulbs remain in their pots. Transfer the bag or the pot to a cool, dark, and dry location for the remainder of spring and summer.
Be sure to label the bags or pots. There is nothing worse than finding bags or pots of bulbs in the fall, and not having a clue as to their variety or color.
Well, I don't like surprises.
In autumn, plant the bulbs in some sunny location outdoors. There, within two years time, they will flower as freely as though they had never been seen in a window garden.
Was this tutorial useful to you? Perhaps you can let me know by leaving a comment.
Don't miss anything at A Garden for the House...sign up for Kevin's weekly newsletter.
Related Posts:
How I Force Tulips for Winter Bloom
How to Force Hyacinths in Bulb Vases
Fragrant Narcissus 'Winter Sun'