FIVE YEARS AGO, my Woodland Garden was not a garden at all. It was a jungle of wild sumac, aggressive vines, and thorny brambles. You couldn't pass through the area without the aid of a machete and a can of bug spray. Read on, and I'll show you how clearings were made, how paths were laid out to create a sense of mystery, and how the addition of a gurgling pond, comfortable seating, and colorful woodland plants all contributed to making this former eyesore a shady retreat. (And if you promise not to tell anyone, I'll even show you my "Secret Garden," which is hidden within the woodland one.)
Now, before this thicket could perform a Cinderella act, it had to be cleared of weeds and debris. By "debris," I mean rusty hubcaps, old tires, beer cans, and other trash deposited there by the previous owner. I also removed about 80 wild sumac trees. Sumac, if you have never encountered it, is the weediest of all weed trees here in the Northeast. But it is soft-wooded and shallow rooted, and therefore not too difficult to cut or dig up.
What remained after cleaning were native shade trees, including maples, oaks, and catalpas. I let wild honeysuckle (above) remain, too, for it was useful for screening the woodland from the more formal parts of the property. Unfortunately the shrub is an exotic invasive, and I have been advised, by several readers, to get rid of it.
An air of mystery is essential to a woodland setting. For instance, paths should never be straight. They should be curved, and rather sharply, too. This invites a visitor to meander slowly through the garden, in order to discover what lies beyond each and every bend. My paths are framed with fallen branches (and cut-up sumac—at least it's good for something), and paved with wood chips.
I'll admit that I had help laying out these paths. Royal help, in fact. You see, Harold Brown, a former Footman to Queen Elizabeth, a former butler to Charles and Diana (and later, Princess Margaret), and now the owner of this drop-dead gorgeous Bed & Breakfast in Tumbridge Wells, happened to be visiting during my week of woodland-making. So now he can add "Master Path-Layer-Outer" to his already-exhaustive resume.
Can we agree that no garden is complete without a water feature? I made a little pond for my woodland by paying a brawny friend to dig a three-foot-deep, four-foot-wide hole. He lined the cavity with leftover roofing material I had on hand, and then filled it with water. A small pump keeps the water moving and well-aerated. Birds, frogs, chipmunks and about 25 goldfish and Koi enjoy the gurgling pond as much as I do. A pair of Adirondack-style chairs provide comfortable seating beside the pond.
Although a hammock seemed appropriate for this restful place, I failed to find one in an unobtrusive color. Consequently I settled for the next best thing — a slatted-wood swing. The swing is suspended between two strong maple trees. It overlooks a bed of New York ferns (Thelypteris noveboracensis), interplanted with pink and red Primula japonica.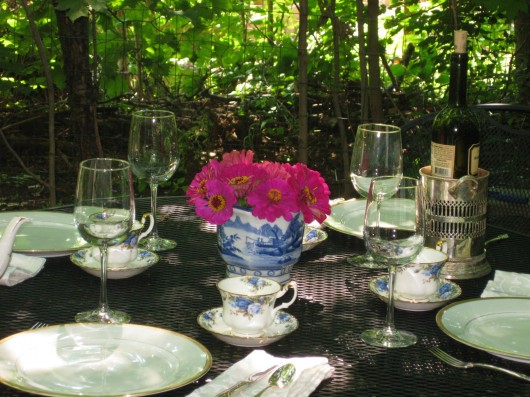 Within the woodland, but completely disguised by maple saplings and wild honeysuckle, is the "secret garden." To make this circular-shaped "room," I simply cleared a patch of weeds, laid down wood chips for a floor, and then placed a table and six chairs there. In the summer, I like having dinner with friends in this dim, natural setting, while seated at a table that is laid with linen, candles, crystal goblets, and my best china and silver. That's my idea of "dining in the rough." Harold Brown would approve.
To provide the garden with three seasons of beauty, I planted the sides of paths with shade-tolerant perennials. That's Campanula persicifolia 'Takion Blue' pictured above. This two-foot tall "bell flower" puts on a big violet-blue show in late May; flowers appear on and off again until frost. I have it in a bed that is edged with the colorful Hosta 'Wide Brim.' This is a hosta that deer don't seem to like.
Indispensable in a woodland setting is the pink, red, or white Primula japonica. Here in zone 5b, its candelabras of bloom appear in mid-May, and sometimes continue through mid-July. The plant reseeds itself yearly, providing its soil isn't disturbed.
For a touch of true blue, I relied on the common Forget-Me-Not. Yes, this Myosotis sylvatica can be invasive. But in a woodland garden, who cares?
Ferns are essential in a woodland setting, and you can have great fun selecting varieties. I planted large sweeps of the lacy-leaved, native New York fern Thelypteris noveboracensis) and the somewhat-evergreen Christmas fern (Polystichum acrostichoides) as groundcover. Also nice to have is the 'Ghost' fern, pictured here. When viewed at night, this Athryium gleams with eerie iridescence.
Sweet woodruff, or Gallium odoratum, makes a particularly effective woodland groundcover. I have it in a small bed beneath a wild cherry tree. Its tiny white clusters of bloom appear in May.
Other flowering plants and shrubs in this garden include rhododendrons (above), hellebores, astilbes, and Spanish bluebells. All these thrive happily beneath the garden's canopy of maple, oak, wild cherry, and catalpa trees.
And that's the story of my Woodland Garden, a magical place that beckons when the weather turns hot and humid in summer. There, shady conditions, comfortable chairs, and a gurgling pond all contribute to a sense of cool comfort, whether one sits, strolls, or gently swings. If you have a wild patch on your property, perhaps you'll consider transforming it into a shady oasis, too.
Don't miss anything at A Garden for the House…sign up for Kevin's weekly newsletter.
Related Posts:
From Parking Lot to Rose Garden
From Hellish Hill to Serpentine Garden
Creating a Raised Bed Garden