Last updated on May 25th, 2016
Newspaper mulching, as I described in detail in an earlier post, is the easiest way to keep beds weed-free for an entire season. But how do you plant seeds and seedlings when weed-smothering paper is in place? I'm so glad you asked. Here's the how-to:
First, a couple of notes…
Note #1. Before you paper and plant the bed, water it thoroughly. The bed will retain much of this moisture once the paper is in place. And that's a good thing if you live in a region where rainfall is scarce.
Note #2. Newsprint can be found at most recycling facilities, and paper bags are available at most grocery stores. Ask for these bags the next time you shop. Never ask for plastic bags –they are terrible for the environment.
Next, lay down the weed-smothering paper! How much paper to use? Well, that's entirely up to you. If weeds are plentiful and tenacious, use several layers of paper. I added just one layer of grocery bags for the not-too-weedy bed you see pictured above.
Can you see the two gaps between sheets of paper? These openings are for the two rows of green bean seeds that I annually plant for Lily the Beagle. Green beans and other vegetables play an important role in Lily's Lose Weight/Look Great diet plan.
Next, sprinkle the paper with water. Wet paper is easy to cut. Wet paper won't blow away while you work.
In the past, I relied on my Hori Hori knife to punch out planting-holes in newsprint or grocery sacks. But this morning, I made a rather startling discovery:
A bulb-planting gadget makes the niftiest holes of all! You can find bulb-planters at almost any garden center. I purchased mine from this online source.
Now grab your seedlings — I'm working with flat-leaved parsley today — and knock them out of their cell-pack prisons. If roots are tightly twisted, loosen them. Otherwise, growth will be compromised.
Insert the seedlings into the holes you've made…
And back-fill the holes with soil. (One of the nice things about the bulb-planting tool is that it grabs and holds soil. I released this soil into a bucket, and used it as needed for back-filling purposes.) Gently firm the soil around the seedling.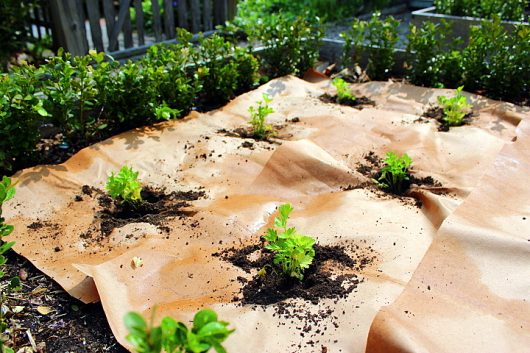 Ta-dah!
Finally, cover the paper with shredded leaves, dried pine needles, salt hay, or some other kind of mulch. If you use shredded leaves, as I did this morning, be sure to wet them lightly. Dampened leaves won't blow away. They'll cling together like Vera Charles and Auntie Mame.
Honk if you are familiar with the names "Vera Charles" and "Auntie Mame."
Also, let me know if you might plant your seeds and seedlings as I described above. Remember that plants in papered beds live happy, peppy lives. They do not have to compete with weeds for food and drink. They require less-frequent watering, too, because paper shades the soil and minimizes evaporation.
Be the coolest kid on the block: Get my email updates.
More fun:
Tabbouleh with Heirloom Tomatoes and Zucchini
Asparagus Soup!
A Red, Yellow, and Green Veggie Tian