Last updated on April 6th, 2017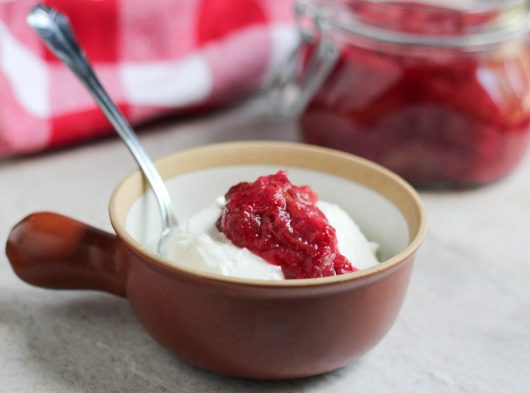 Yikes — it's 92°F here today. Buh-bye tulips and daffodils. Hello, window air conditioners that do not properly fit the windows in this 19-century house. We have to hire Phillip the Clever Contractor to install these appliances each year. Otherwise we'd roast, not rest, in bed at night.
Do you have central air? I'm jealous of you.
Now, because of the heat, I think today's kitchen adventure should involve just 3 ingredients, and not more than 10 minutes of cooking time. Rhubarb Sauce meets these requirements. It's not too tart, not too sweet. And it goes perfectly with all kinds of things. Like yogurt. And vanilla ice cream.  It pairs up nicely with savory stuff, too, including roast duck, grilled chicken, baked pork tenderloin. I hope you'll give it a try.
Take 1 pound of rhubarb…
And roughly dice it.  Alternatively, you could dice it roughly.
The decision is entirely yours.
Oh. If you don't have a kitchen scale, 1 lb diced rhubarb measures out, more or less, to 4 cups.
Next, stand on a chair and retrieve the green pot that resides on the shelf above your kitchen cabinets.
Sorry about that. Storage is at a premium here.
Add the rhubarb to the pot, along with 2 tablespoons of water. Obviously I like action shots.
Also add 1/2 cup of sugar. You can try to use less sugar, but rhubarb is tart, tart, tart. You need to temper its tartness with quite a bit of sweetener. Add honey or agave if you must.
And if you're a criminal, you can add some strawberries to the sauce. I say "criminal," because strawberries and rhubarb are not in season at the same time.
I'll bet you have every intention of adding out-of-season strawberries to the sauce. Please proceed as your conscience dictates.
Now grab a polka dotted spatula, and give everything a quick stir.
Then cook the works over medium heat just until the rhubarb softens. This might take as little as 5 minutes, or as many as 10, depending on the quality of rhubarb you put in the pot.
Spoon or ladle this blissful bliss into a glass jar. The sauce will thicken as the sugar syrup cools. Not that you have to let it cool. Rhubarb sauce is delicious at any temperature.
It's also delicious, as I mentioned earlier,  on anything and everything. Wanna make a rhubarb parfait? Simply spoon some sauce into the bottom of parfait glass, add a layer of yogurt and a layer of granola. Keep adding and layering until you reach the top of the glass. Then devour your luscious loot in some shady spot outdoors.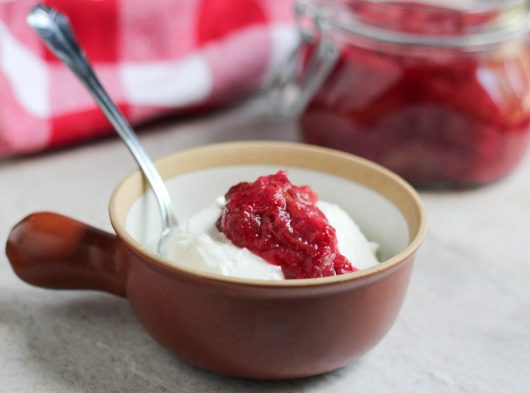 For today's tasting, I simply spooned a little rhubarb sauce over some Greek yogurt. 'Twas delicious.
When it comes to sheer versatility, not to mention extraordinary taste, I don't think you can be this rhubarb sauce. Give it a go, okay?
Here's the printable:
Three-Ingredient Rhubarb Sauce
With just three ingredients and about 10 minutes of time, you can whip up a batch of not-too-tart, not-too-sweet rhubarb sauce. Serve the sauce on roasted duck breasts, grilled chicken pieces, or spoon it over yogurt or ice cream.
Ingredients
1 lb rhubarb (4-5 cups when diced)
2 tablespoons water
1/2 cup sugar
Instructions
Roughly cut the rhubarb into 1/2-to 1-inch pieces. Drop the pieces into a non-reactive post, such as enameled cast-iron. Add the water and sugar, and then stir to combine. Cook over medium heat just until the rhubarb softens -- 5 to 10 minutes. Let cool briefly, and then ladle the sauce into a glass jar with a lid. Cover when the sauce achieves room temperature. The sauce will thicken as it cools.
Stir the sauce into yogurt, spoon it over vanilla ice cream, or spread it on toast. Or, spread it on grilled chicken, roasted duck, or a baked pork loin. It's a versatile sauce.
https://www.agardenforthehouse.com/three-ingredient-rhubarb-sauce-recipe/
Copyright 2015 by Kevin Lee Jacobs
Wanna receive all of my latest recipes and gardening tips? Get my email updates!
Hungry for more?
Glazed Rhubarb Galette
Best Asparagus Tart in the World
Bean Dip with Fresh Rosemary and Sage