Last updated on October 4th, 2015
Happy October, everyone! This month, I'm planting bulbs, baking cinnamon rolls (yum!), and designing window gardens. Wanna watch me work? Check out this month's list of House and Garden Chores.
First things first, check heating systems. My 2 furnaces (one oil, one gas) were serviced in September. Fireplace chimneys will be swept next week.
Leaves. Rake these up, but don't throw them away. Why? Because autumn leaves are the best soil amendment on earth. I shred, compost, and use this free material all over my garden. More details in this post: Why I Save My Autumn Leaves. 
Bulbs. If possible, plant these out no later than October 15. Tulips, hyacinths, and other "Dutch" bulbs need time to grow roots before the ground freezes.
And if your newly-planted bulbs are bothered by squirrels, you can easily protect them. The bulbs I mean. Here's how.
Hostas. Remove withered foliage, but wait until spring to divide and/or relocate the plants. I use hostas to edge the paths of my Woodland Garden (above).
Iris. Remove only the foliage which has yellowed. Green leaves are still providing nourishment to the rhizomes.
Peonies. Cut off foliage as it fades. October is the proper month for planting and relocating peonies.
Shrubs. You can buy these at steeply-discounted prices now. I can heartily recommend flowering quince 'Cameo,' pictured above, which opens the spring season with lavish, fully-double, peach-colored blooms.
Watering. Plants that have suffered drought are prone to winterkill. So if autumn rains don't come your way, you'll need to soak your perennials deeply and finally by the third week.  This way, they'll go dormant in good condition.
Vegetable Garden. Pull up and compost all finished plants. Store wooden trellising and tomato supports. If raised beds are low on soil, just top them off with finely-shredded leaves. As they decay, the leaves will turn into rich compost. How I prepare my raised beds for winter.
Garlic. Plant the crop now. As with other bulbs, garlic needs to start making roots before the ground freezes solidly. For more details, see My Garlic Sowing & Growing Guide.
And speaking of garlic — I always plant "hard-neck" varieties. These produce the "scapes" that are required for the most delicious pesto in the world.
Shall we head indoors?
Set up a window garden! Outfit a window with glass shelves, and you can have all kinds of fun creating seasonal plant-pictures. The easy-peazy directions are here.
African violets. Place them in full sun as days grow shorter toward the end of the month. To insure continuous bloom, I nurture my plants this way.
Thanksgiving Cactus (Schlumbergera truncate – often misnamed the "Christmas Cactus"). For best flowering, set the plant in a cold, dim place, and do not water it for the entire month. Bring to full sun on November 1. Tips for growing and displaying this Brazilian tourist.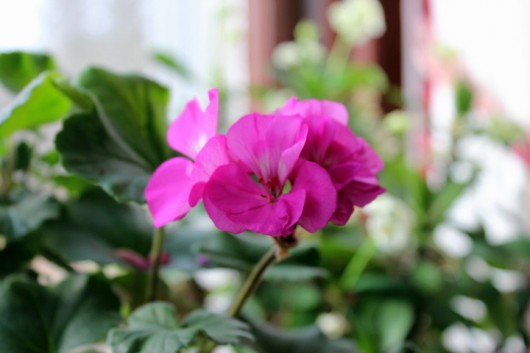 Geraniums (Pelargoniums). For indoor winter bloom, I prepare my outdoor potted plants this way.
Petunias. Take cuttings now, and you won't have to buy new plants next spring. Here's proof.
Dutch Hyacinths. Early this month, set the bulbs in little vases, or "hyacinth jars." Then place the vases in a dark, cold (but not freezing) place for 12 weeks of rooting. (French-Roman varieties require only 5-6 weeks in cool darkness.) More details in my handy hyacinth-forcing guide.
And finally, cook something! I can highly recommend each of the following autumn delights (click highlighted text for my step-by-step recipes):
You will love these exquisitely-perfumed Autumn Spice Cookies…
And these dreamy-delicious Pumpkin-Spiced Cinnamon Rolls…
And this soul-warming Carrot-Ginger-Orange Soup.
What are you planting, cleaning, or cooking in October? You can let me know by leaving a comment. As always, I love hearing from you.
Don't miss anything at A Garden for the House…sign up for Kevin's weekly newsletter.
Related Posts:
Cranberry-Orange Bars
Harvest Turnovers
How to Clean Old Windows