These Homemade Hamburger Buns are everything you'd want them to be: soft, yeasty, and useful! I use them for Black Bean Burgers, Portobello Mushroom Burgers, bacon and egg sandwiches, and more. Of course, they are awesome too for ordinary hamburgers! The buns are no trouble to make. Here's the recipe:
Watch the above video to learn how to mix, knead, form, and bake your own hamburger buns. Then scroll down for notes and the printable recipe.
Note #1. As mentioned, I like to split the buns with a serrated knife after they've cooled to room temperature. Then I freeze the buns in zip lock bags.
Note #2.  The dough can be made with either all-purpose or bread flour. I used all-purpose flour for today's batch o' buns.
Note #3. No standing mixer for you? Knead the dough by hand. Hand-kneading — a relaxing, zen-like job —  can do wonders for the stressed-out soul.
Show me your buns! If you make these breads, post a picture and tag me on Instagram (kevinleejacobs) or Twitter (@KevinLeeJacobs). And do post a comment below because…I love hearing from you!
Hungry for more? Get my email updates.
Here's the printable: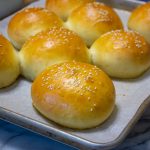 Print Recipe
Homemade Hamburger Buns
These breads are soft, yeasty, and infinitely useful. To store the buns, split them with a serrated knife after they've cooled to room temperature. Then freeze in air-tight tubs or zip-lock bags.
Equipment
A standing mixer outfitted with a dough hook

A large, lightly-greased bowl

A large, parchment-lined baking sheet

Plastic wrap (a/k/a "cling film")
Ingredients
1 cup warm (110°F) water

2 1/4 teaspoons (one envelope) active dry yeast

1 large egg, at room temperature

3 tablespoons butter, melted

2 tablespoons sugar

1 1/2 teaspoons salt

3 1/2 cups (1 lb) all-purpose flour (or, use bread flour)

Egg wash for brushing: 1 egg beaten with 1 teaspoon water

Optional for topping: sesame seeds -- a sprinkling for each bun
Instructions
In the bowl of a standing mixer, whisk together the water and yeast. Then whisk in the egg, butter, sugar, and salt. Use a stout spoon to stir in half of the flour. When the first addition of flour is moist, stir in the remaining flour.

Attach a dough hook to the standing mixer. Knead at low speed for 2 minutes. Then turn the machine off, and let the dough rest for 2 minutes. At "medium" speed, knead until the dough becomes smooth and elastic -- about 7 minutes.

Use damp fingers or a damp spatula to scrape the dough onto a non-floured work surface. Form the dough into a ball, and then place the ball, seam-side up, in the large greased bowl. Flip the dough to grease its other side. Cover the bowl with plastic wrap, and let rise in a warm location until doubled in volume -- 90 minutes to 2 hours.

With damp fingers, gently punch down the dough, and turn it onto a non-floured work surface. Pat the dough into a rectangle. Use a bench scraper or knife to cut the rectangle into 8 equal pieces. Form each piece into a ball (please watch video above!), and arrange the balls on the prepared baking sheet in a zig-zag pattern. Loosely cover with plastic wrap, and let rise until doubled in volume -- 30-45 minutes. Meanwhile, preheat the oven to 375°F.

Just before baking, brush the buns with the egg wash, and, if you are using them, sprinkle the tops with sesame seeds. Bake until the buns are richly bronzed -- 15-17 minutes. Cool to room temperature on a wire rack.