Last updated on July 5th, 2020
TRUE CONFESSION: Today I had planned to write an engaging post called "Organizing the Pantry." Then I realized that my own pantry isn't well-organized at all. So instead of telling you about what goes where, let me offer you a brief tour of the pantry here at Clover Hill. This 16-feet-long series of wooden cabinets and drawers was installed in the 19th century:
The L-shaped pantry is located in a small room between my kitchen (tour here) and the "servants entrance" to the dining room (video tour here). The deep cabinets and drawers were probably intended for fine table linens, silver tea sets, candle sticks, and certain other accoutrements that defined affluent Victorian-era dining.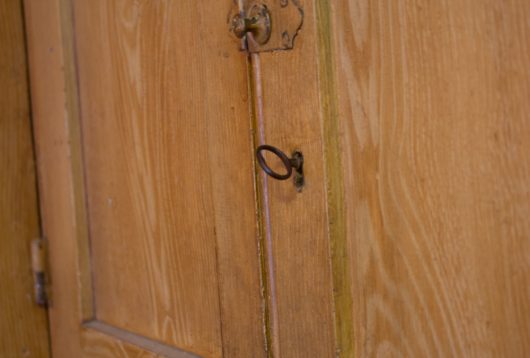 One of the cabinets is equipped with lock and key. Perhaps the tea was secured there. For our Victorian ancestors, tea was a luxury item.
Here's what I store under lock and key. I call it "The Goya Collection."
Here's a drawer pull from one of the cabinet's five drawers. We will not pull these drawers today.
But we may open a cabinet door! As you can see, adjustable shelving was added during the 20th century. On the shelves are the things I use every day — cake tins, muffin tins, bread pans, French casseroles, and wine goblets of all kinds.
When we bought this house, I thought the pantry was built from oak wood. On closer inspection I discovered the wood was pine, faux-painted to resemble oak.
And this concludes our mercifully-short tour of the creaky old pantry at Clover Hill. When at last I finish organizing the thing, I will gladly open the drawers for you. xKevin
Hungry for more? Get my email updates.