Last updated on May 22nd, 2020
BREAKING NEWS: I've decided that Orange Juice Waffles are the best waffles in the world. They're crispy outside, tender inside, and fabulously infused with a sunny citrus scent. Need a good reason to drag out the waffle iron you haven't used since 1992? This recipe is for you.
Did you know that there are two ways to achieve light, crispy waffles?
The Herculean way: Beat egg whites to stiff peaks, and gently fold them into the batter.
The Kevin way:  Add cornstarch to the batter.
That's right — after numerous waffle-making experiments, I've concluded that common cornstarch is as good as beaten egg whites when crispy waffles are desired. Cornstarch has the unique ability to absorb steam in the waffle iron that makes waffles limp and soggy. Soggy waffles are awful waffles.
So to make your life easier, you'll find the addition of cornstarch in this recipe. You can thank me later.
Here's the step-by-step:
First, put 2 cups self-rising flour in a medium bowl. If you don't have self-rising flour, just whisk together 2 cups all-purpose (a/k/a "plain") flour, plus 4 teaspoons baking powder and 1/2 teaspoon salt.
Also, add 1/2 cup cornstarch. If you can find organic cornstarch, by all means use it.
Then grab an orange, and, purely for the sake of picture-taking, balance it on a microplane zester.
Grate the orange peel into the flour mixture…
And whisk to combine.
In another bowl, whisk together 2 large, organic eggs…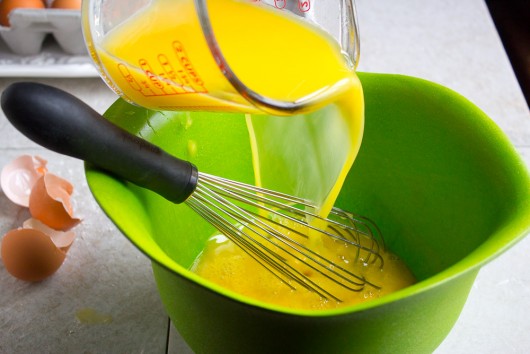 And 1 3/4 cup freshly-squeezed or store-bought orange juice (be sure to include the juice from the orange you previously zested).
Also whisk in 2 tablespoons sugar…
And 1/2 cup flavorless vegetable oil (safflower oil works well).
Now add the dry ingredients to the wet ones…
And whisk or stir just until the flour disappears. Don't worry if the batter is a little lumpy.
Grease or spray your preheated waffle iron, and then ladle in the right amount of batter.  I can't tell you how much batter, because I don't know how large or small your appliance is. In general, use less batter than you think you'll need.
Close the iron, and bake the batter for its recommended time — usually about 4 minutes. The fragrant steam that escapes from the iron will delight your nose. You'll work up a real appetite.
Now put 1 or 2 waffles on a plate, and add a knob of homemade butter.
If you're like me, you'll want to add some warm maple syrup, too. Maple and orange go together like love and marriage. Or a horse and a carriage.
Amen.
And by the way, these waffles ain't just for breakfast. They're perfectly perfect for dinner and dessert, too! For dinner, you might top them with fried eggs. For dessert, plop some orange sherbet on top. Or, smother 'em with an ungawdly amount of whipped cream and strawberries. You know you want to.
Hungry for more? Get my email updates.
Related Posts:
Angelic Zucchini Fritters
Thyme and Wine Beef Stew
Chocolate and Cabernet Sauvignon Cake
Here's the printable:
Crispy Orange Juice Waffles
These waffles are light, crispy, and perfectly perfumed. They're also lactose free, because orange juice replaces the usual milk in the batter. Serve them for breakfast, brunch, lunch, dinner, or dessert!
Ingredients
2 cups flour*
4 teaspoons baking powder*
1/2 teaspoon salt*
1/2 cup cornstarch
The grated zest of an orange
2 large eggs
1 3/4 cup orange juice
2 tablespoons sugar
1/2 cup neutral-tasting vegetable oil (such as safflower)
*If using self-rising flour, omit baking powder and salt
Instructions
Preheat the waffle iron. In a large bowl, whisk together the flour, baking powder, salt, cornstarch, and orange zest. In a separate bowl, whisk together the eggs, orange juice, sugar, and oil. Tip the dry ingredients into the wet, and whisk or stir until the flour disappears. The batter will be somewhat lumpy.
Ladle the batter onto your preheated waffle iron, and bake according to its directions (usually about 4 minutes). Serve immediately with homemade butter and pure maple syrup. Or, keep warm on a baking sheet in a 200°F oven. Cooled waffles can be frozen. Reheat in a 400°F oven for about 10 minutes.
https://www.agardenforthehouse.com/crispy-orange-juice-waffles/
Copyright 2015 by Kevin Lee Jacobs