Last updated on December 8th, 2014
SEPTEMBER is my "get ready for winter" month. It's time to divide and reset certain perennials, to order and plant bulbs, and to acclimate vacationing houseplants for their return to indoor life. Feeling energetic? Good. Because one of us can sip a martini…while one of us goes to work!
What's that you say?
You'd like three olives in your cocktail?
Fine.
Here's what I'm doing for my house and garden this month:
Order Bulbs. You can never have too many of these. To obtain the best varieties at the best prices, I order directly from online bulb-specialists like this one.
Iris. Divide and reset the crowded clumps, but remember to keep rhizome tops exposed to sunlight and air. In other words, plant them half-in, half-out of the soil.
Lilies. Remove faded flowers, but don't clip foliage until it yellows. Please tell me that your lilies haven't been invaded by this dreadful insect.
Peony. Divide and transplant any poor-blooming old plants, or set out new ones. They need sun, good drainage and only two to three inches of soil over the crowns. If they are buried too deeply, or if sun isn't sufficient, they will not bloom.
Roses. Continue to deadhead, but stop feeding. Roses need to prepare themselves for winter dormancy — not new growth.
And by the way, the picture above is from June, 2013. The roses took quite a hit in January 2014, when temperatures stayed in the minus digits for weeks. Most of the roses — those I didn't pull out — are still in recovery-mode.
Vegetables
Salad Greens. Where I live, lettuce and spinach can be sown outdoors through October 1. If a hard frost is predicted, I simply cover the plants with floating row covers or bed sheets.
The bed sheets in question.
Onions. I harvest, cure, and store the bulbs this way.
Potatoes. Although my potato vines have already died back, I won't harvest the crop until really cool weather arrives (usually mid- or late-October). This way my cellar will be cold, too, and better suited for potato-storage. Tubers will keep well only in dark, humid, chilly (35-40 degrees F.) quarters. How I plant, grow, harvest, and store potatoes.
Tomatoes. To avoid the ravages of frost, it pays to pick mature fruits while they are still green, and let them ripen in paper bags indoors. I've found that a banana placed in each bag really speeds things up.
Herbs. Not sure how to freeze or store your garden's bounty? Be sure to read this post o' mine.
Houseplants
Vacationing Houseplants. Condition these to indoor life before nights get cold. In early September, I move mine to the covered porch where there is less light than in the open and they stay there for two weeks. Prior to their coming in, I first scrub the pots with steel wool, and then dislodge pests, if any, with a firm blast of water. An organic pesticide provides further insurance against creepy-crawlies.
Once indoors, provide plentiful fresh air and humidity via open windows until the weather turns cold. This way there will be a minimum of leaf drop and discontent with the home environment.
Make a Window Garden! For the decorative display and easy maintenance of houseplants, you can't beat a window garden. It took me less than 30 minutes to outfit the window in my upstairs bath (pictured above) for the happy containment of my flowering friends. Story and pictures.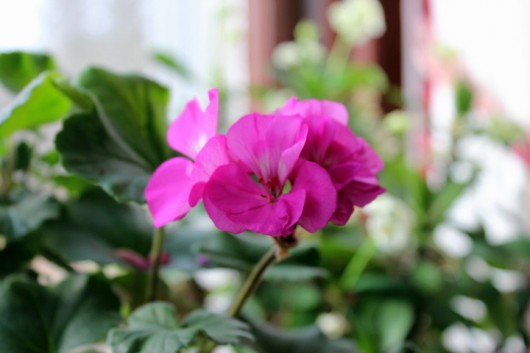 Geraniums (Pelargoniums). I prepare mine for winter-bloom this way.
Petunias, Wax Begonias, Impatiens. Take cuttings now, and root them in pots of good soil. Brought indoors before frost, these tender annuals will provide cheerful bloom during the dark winter months. The how-to.
"Christmas" Amaryllis. Induce dormancy the first week in September. To do this, lay the pot on its side and let the soil dry out. Remove the foliage after it turns yellow and becomes loose, and then bring the plant indoors to a dark, cool place. (Dormancy is not necessary for evergreen varieties.) For more details, see my Amaryllis Growing Guide.
Clean Chimneys. If you rely on fireplaces for supplemental winter warmth — I certainly do — better have your chimneys inspected and cleaned in September. I learned the hard way that all chimney sweeps in my area are booked up by October. I also learned that none of them can sing like Dick Van Dyke.
Furnace. Have this inspected and serviced at once. Otherwise you might have an unpleasant surprise the first time you crank up the thermostat.
Clean Windows — Inside & Out. If, in winter, you'd like sunlight to enter your home unhindered by grime (I certainly do, and so do my houseplants), you'll have to perform this odious job. I clean my 57 (ancient) windows this way.
Bake something! I can highly recommend these Autumn Spice Cookies. I fell in love with them from the very first bite.  The easy recipe.
And here's a question for you: Has autumn arrived early to your neck of the woods? You can let me know by leaving a comment.
Don't miss anything at A Garden for the House…sign up for Kevin's weekly newsletter.
Related Posts:
African Violets: How to Achieve Constant Bloom
Flower Arranging 101: Formal Beauty from Common Garden Flowers
Housekeeping 101: Cleaning the "Master" Bedroom