This weekend marks Memorial Day, the American federal holiday for remembering those who gave the ultimate sacrifice while serving in the United States Armed Forces. In addition to honoring our heroes, many of us take advantage of the three-day weekend by brunching, lunching, or dining out-of-doors. Here are some of my favorite recipes for Memorial Day gatherings:
Minty Limeade from Scratch. This isn't just a cool, refreshing elixir. It's a cocktail party waiting to happen! Click here for the simple recipe.
Baked Salad Caprese Appetizers. I can't imagine a better way to begin a warm-weather party.  The recipe for you. 
Easy Zucchini Appetizers. Too tired to cook? Do what I often do, and fill some zucchini "cups" with store-bought deli salads.  Here's the how-to.
Make-Ahead Spinach and Cheese Strata. One of the most popular recipes on this website of mine, and for good reason, too. Boy howdy — it's delicious! Here's the step-by-step.
Tomato Pie. Take some perfectly ripe tomatoes, drop them on a bed of store-bought biscuits, top them with basil, mayonnaise and cheddar cheese, bake the works until puffed and golden, and what will you get? A standing ovation.
Tabbouleh with Tomatoes and Zucchini. Do you know this vegan Lebanese dish? It's crunchy with cracked wheat, and fragrant with fresh parsley and mint. Even meat-eaters love it.
Portobello Mushroom Burgers. Portobellos are the steaks of the fungi family. I like to marinate and grill them for veggie burgers.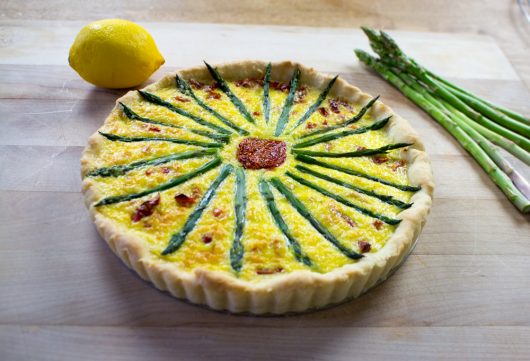 Asparagus Tart. Earthy asparagus. Sun-dried tomatoes. Zingy lemon. There's nothing about this springtime tart that isn't wonderful. I make it this way.
Make-Ahead Raspberry and Goat Cheese Strata. The raspberries and cheese are combined with cubes of soft bread and then soaked overnight in a vanilla custard sauce. Assemble the dish a day in advance, and then bake it off exactly 1 hour before your guests arrive. Here's the recipe.
Rhubarb Galette. This springtime dessert is not too tart, not too sweet. It's just…perfectly perfect. Taste it for yourself.
Blueberry Danish. These are easy to make, gorgeous to serve, and divine to devour. I love 'em! The recipe. 
Ice Cream Sandwiches. When the dog bites; when the bee stings; when I'm feeling sad…I simply eat ice cream tucked between thin layers of chocolate cake…and then I don't feel so bad!
Well. I hope this recipe roundup was helpful to you in some small way. Have a safe, thoughtful, and delicious Memorial Day weekend, okay?
xKevin