Last updated on February 27th, 2021
I stopped by my favorite farm store the other day, with the sole intention of buying one (just one!) bag of organic parsley. I purchased the $2.00 herb, and then wandered into one of the farm's solar-heated greenhouses. There, sitting on a black, tarp-covered floor, and sprouting green, ferny growth, were dozens of asparagus plants. I plunked down an addition $42.00, and brought them home.
What does asparagus want? A permanent home where it can live for about 20 years. Consequently, you have to be careful about site selection.  The crop performs best in all-day sunshine, and in light, friable, well-draining soil. A raised bed is recommended.
Although it will grow from seed, asparagus is usually obtained from 1-year-old roots, or crowns. Here in New York's Hudson Valley (zone 5-b), the crowns — whether purchased in pots or loose in bags  — are best planted out in early to mid-April.
I decided that a raised bed in my Kitchen Garden would make the ideal home for my perennial guests.  The raised bed is 8 feet long, 4 feet wide, and consequently large enough to accommodate 8 asparagus plants.
First, dig holes to a depth of 6-8 inches, spacing them  1 1/2 – 2 feet apart.
Then drop a handful of some balanced (or nearly-balanced) organic fertilizer into the bottom of the hole.
Mix the fertilizer into the soil with your gloved hand.
Next, knock the plant from its plastic prison…
And place it in the hole. If your soil is light and friable, position the plant so that it sits 2 inches deeper than the top of the hole. If your soil is on the heavy side, arrange the plant so that it is level with the raised bed.
Back-fill the gap around the plant, and admire your work.
BUT KEVIN, I PURCHASED LOOSE CROWNS IN A BAG! HOW THE HECK DO I PLANT THEM? I DARE YOU TO RESPOND. SINCERELY, GLADYS K.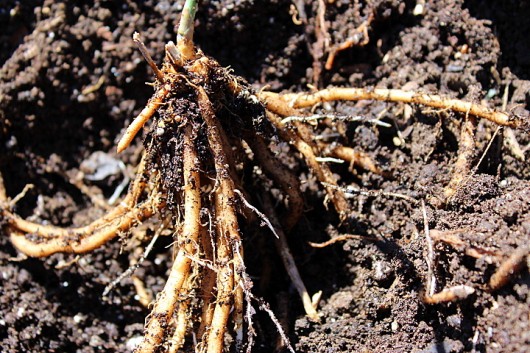 Hi Gladys. First, please don't use that tone of voice with me. And next, you should plant your crowns in the same fertilized holes described above. Set the crowns in the holes, and spread their roots out horizontally. If you are blessed with loose soil, plant each crown 6 inches deep. In heavy-ish soil, position the crown so it is only 4 inches deep. From sources I've read, you can either refill the holes gradually, or all at once.  Both of these back-filling methods produce identical results.
And finally…water the plants deeply, and apply 2 inches of mulch around (not on top of) the plants. Good mulch choices for asparagus include shredded leaves, chopped, weed-free straw, pine needles (contrary to popular belief, these do not acidify the soil), and shredded wood chips.
Unfortunately, my asparagus patch won't be ready for harvest until the plants have grown for 2 years. And that's okay. It's always fun to have something to look forward to!
Update: Here's the same bed, just 3 months after planting. Wowzers!
In the comments field below, let me know if you've tried your hand at asparagus-growing. Perhaps you have some cultural tips and tricks that will benefit us "newbies."
Don't miss anything at A Garden for the House…sign up for my email updates.  
Related Posts:
Bacon-Wrapped Asparagus
The Best Asparagus Tart in the World
A Water-Wise Way to Plant Potatoes