Last updated on February 8th, 2017

CALL ME A HOPELESS ROMANTIC, but I chose to live in a house which was built in 1826. It's a house that had fallen on hard times. In fact, when it came on the market in 2001, the first offer was from a man who wished to remove the marble and mahogany fireplaces, the sweeping staircase, and the original black-walnut pocket doors, and sell them as "salvage items." Here's a glimpse of the Music Room:
I call this the "Music Room," simply because it houses two of my pianos (there's another piano in a room off this one, located behind a set of pocket doors). I'll explain why I have three grand pianos in another post.
The great-great granddaughter of the house's original owner — her name is Janice, and she's 95 years old now — was gracious enough to send me a late 19th-century photograph of this room. As you can see, it once held a good deal more furniture, including — get this — a grand piano. Probably the room is happy to have music bounce off its walls once again. I can tell you the acoustics here are spectacular.
I designed the curtains to match — as much as possible — those in the early photograph.
At the north end of the room is a set of black walnut pocket doors. Would you like to see what's behind them?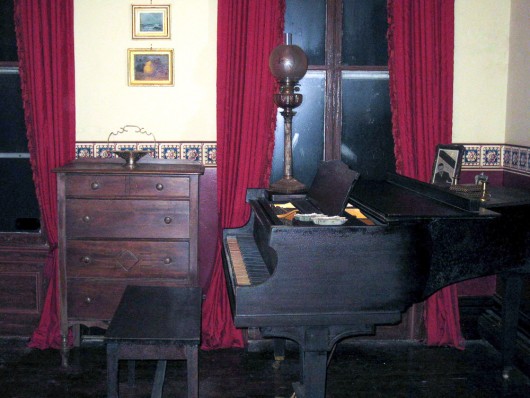 Why, it's that third piano I told you about. The make is "Hazelton Brothers," and per its serial number, it was built in NYC in 1919.
Also in this little room is a fireplace, with a giant, elaborately carved over-mantel mirror. Surely this would have been sold by the greedy salvage dealer I mentioned at the beginning of our story.
Other decorative features include ornate valances mounted above each window. Unfortunately, these valances, made of black walnut, are now very fragile. The man who removed them in order to install my hangings swore they would fall apart if anyone dares to fiddle with them again.
This house, though large, is certainly not for the persnickety. In fact, after watching a few episodes of "Property Virgins" on HGTV, I suspect that only my spouse and I would be happy to live here. For there are no closets in the house, and its floor plan is not an "open" one. Each room is an entity unto itself, complete with a door for privacy (and for keeping heat in the room, when the fireplace is in use).
If you'd like to see some of the other rooms we've restored, I'd be happy to show them to you. Just drop me a line in the comments thread below.
Don't miss anything at A Garden for the House…sign up for Kevin's weekly newsletter.
Related Posts:
House Tour Part 2: The Entrance Hall & Staircase
House Tour Part 3: The Parlor
House Tour Part 4: The Dining Room
My Herb Garden (or, How to Decorate Rich Even When You're Not)