Last updated on June 30th, 2019
Earthy asparagus…sun-dried tomatoes…zingy lemon zest…there's nothing about this springtime tart that isn't wonderful. Ready for a taste?
Below is the recipe in video format. Farther down is the recipe in printable format. Somewhere in the middle is a link for the recipe in photographic steps. Obviously I like to cover all of my bases.
Can't watch videos on your device? Click here for the step-by-step photographic recipe.
Not sure how to make and blind-bake a French pastry shell? Proceed this way.
If you have asparagus in your garden, then by all means employ it in today's tantalizing tart. Since my own asparagus (above) is only beginning to emerge, I used asparagus purchased from the supermarket.
As mentioned in the video, be sure to store your asparagus upright in a jar or drinking glass to which an inch of water has been added. Refrigerated this way, the stems can remain fresh and wonderful for about 3 days.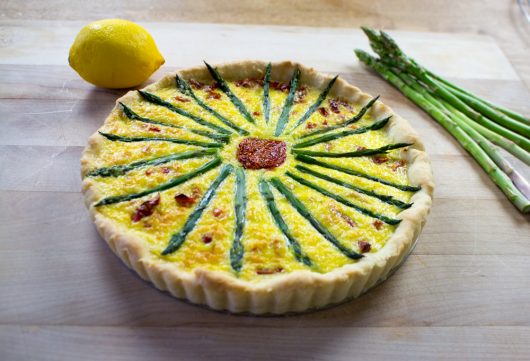 And…here, in case you need it, is the printable recipe:
Fresh asparagus spears…sun-dried tomatoes…a lemon-infused egg custard…there isn't anything about this tart that isn't wonderful.
Ingredients
20 fresh, thin asparagus spears, the tips cut 3 1/2-inches in length (save end portions for another use)
3 large, organic eggs
1/2 cup heavy cream
The grated zest of 1 lemon
1/2 teaspoon kosher salt
Grinds of black pepper
One 9-inch pre-baked Pate Brisee Tart Shell (in a removeable bottom tart pan)
1 cup finely-shredded Swiss cheese
10 sun-dried tomatoes (oil packed), blotted with paper towels, and chopped
1 sun-dried tomato, cut into a 1-inch diameter circle
Instructions
Adjust oven rack to the center position; preheat the oven to 375°F.
Blanching the asparagus -- Put the asparagus tips in about 1 inch of simmering, salted water. Cook for exactly 5 minutes. Transfer to a bowl of ice water for 2-3 minutes. Drain on a kitchen towel.
The egg custard — In a medium-size bowl, beat the eggs with a whisk. Then beat in the cream, lemon zest, salt, and pepper.
Assembling the tart – Distribute the shredded cheese over the bottom of the baked tart shell, followed by the chopped tomatoes. Then pour on the egg custard. Arrange the asparagus around the tart like the spokes of a wheel, with their feathery tips facing outside, toward the crust. Place the cut out round of tomato in the center.
Baking -- 30-35 minutes at 375°F. Put the tart on a baking sheet. Bake until set (the custard shouldn't jiggle at all) — 30-35 minutes. Cool on a wire rack for at least 5 minutes, and then unmold onto a plate or platter. Speaking from experience, this tart is outrageously delicious at any temperature, including cold from the refrigerator.
https://www.agardenforthehouse.com/french-asparagus-tart/
Copyright 2015 by Kevin Lee Jacobs