Last updated on March 16th, 2019
Up for a February garden tour? Better grab your bourbon-filled flask. The garden in question is mine, and the temperature here is as cold as a loan shark's heart:
We are in the front yard now, gazing at a house that has withstood 193 winters. As you can plainly see, I recently mowed the lawn.
Also in the front yard, and parked near the driveway, is this large forsythia. Did you know that frozen forsythia branches can be cut at this time, and forced into dazzling golden bloom?
One bitter February, I forced forsythia branches on a plant stand in my parlor window.  The branches contributed their beauty to a spring scene of primula, wax begonia, and vases of forced hyacinths.
Now back to the brrr-isk outdoors:
Behind the house is a snow-capped Boxwood Garden…
which features a pair of three-tiered fountains. In winter, the fountains turn into wedding cakes.
And here, just west of the boxwood garden, is the lower terrace of the Serpentine Garden. We cannot visit the upper terraces today, because the hill is steep, and one of us is wearing stilettos.
Please pass the flask.
Now turn around, and you'll find the boxwood-framed blueberry patch.
And speaking of blueberries…winter is the proper time to prune the shrubs. Last year, I made a crummy video of the whole pruning procedure.
And finally, here's the Herb Garden, with its timber-framed beds and crisp, white furniture.  We shall not sit in this garden today.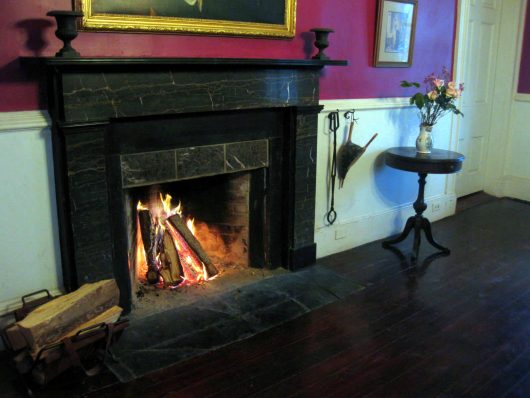 Instead, let's head inside, and sit by the fire! And as we warm our toes, please tell me what's happening in your neck o' the woods. Are you…
Freezing in the Midwest or the Northeast?
Drowning in Los Angeles?
Sweating in Sydney?
Talk to me in the comments section below.
Hungry for more? Get my email updates, and subscribe to my YouTube channel.