Last updated on November 30th, 2018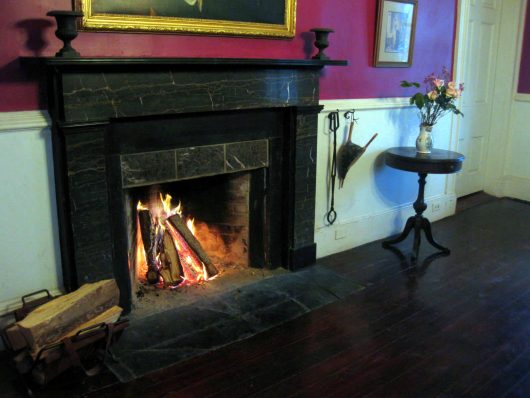 Mind if I pay homage to Count Rumford and the fireplace he designed in the late 18th century?
Count von Rumford  (a/k/a Sir Benjamin Thompson — he was knighted by King George III)  was a physicist who specialized in the nature of heat. In the late 18th century, he transformed the common, smokey fireplace into a clean-burning, heat-making machine.
Rumford fireplaces were popular in American houses from 1796 until 1850. The Rumford in my dining room (1826) is certainly efficient! In a matter of minutes, and with only 5 pieces of split wood, it produces enough radiant heat to warm the room by 20°F.
Watch the following video to discover the proper way to build a fire in a Rumford, and also to learn about the Count's other clever inventions:

Thanks for watching!
In the video, I forgot to mention that an iron grate is neither necessary nor desirable in a Rumford fireplace. The fire burns cleaner without a grate.
In the comments field below, let me know if you have a fireplace, and whether or not it actually heats a room. And if you'd like to learn more about Rumford fireplaces — mercifully, they are making a comeback — be sure to check out www.rumford.com. 
Hungry for more? Get my email updates, and subscribe to my YouTube channel.
Love, hugs, and warm thoughts —
Kevin