Last updated on August 24th, 2021
I wanted to give you an up-close look at the container plants that are featured in my latest YouTube video: "Let's Tour the Garden: May, 2021" (click here to watch the episode). The plants — most of them annuals that will bloom and bloom until frost — are perfectly suited for a stylish career inside a pot, a hanging basket, or a window box. Pictures and cultural details for these spillers, fillers, and thrillers:
My "Tablescape" Plants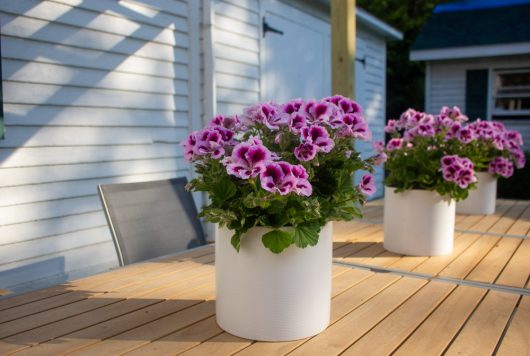 On the long patio table are three Pelargonium domesticum. Here in the United States, these show boats are commonly referred to as "Martha Washington" or "Regal" geraniums. Most varieties have richly-hued, ruffled flowers. Outdoors in spring, the plants bud and bloom as long as nighttime temperatures remain in the 50° – 60°F range (and as long as spent flowers are regularly removed). In my Hudson Valley climate, Martha will bud and bloom for two full months.
Hot weather isn't the end of the Martha story. When blooming ceases, you can take stem cuttings and root them in pots of good potting mix. Keep these youngsters in a shady location outdoors. Bring the plants indoors in autumn, place them in a sunny east or south window, provide food and water as needed, and they will reward you with brilliant bouquets in February.
Mixed Plantings in Containers
To my mind, mixed plantings always look best if they include a spiller, a filler, and a thriller. Here's how I outfitted the big urn on my patio:
The spiller: Lobelia. I'm a fan of cool colors, and Lobelia erinus is as good as a cold drink on a hot day. The tiny blue blossoms resemble a waterfall as they cascade over the sides of the urn. The plant prefers only semi-sun, but performs well in the direct morning sun on my east-facing patio.
The filler: Angelonia 'Angelmist Spreading Bluebird.' The purple-splashed white spires on this dwarf "summer snapdragon" look well above the cool blue Lobelia. As with the latter, the former is always in bloom.
The thriller: Dahlia, dahlings! This is a compact, or "border" type dahlia that grows to just 20 inches in height. The winey red blossoms compliment the lobelia and angelonia below.
My window boxes are actually black metal frames lined with coconut coir. Here's what's in them:
The filler: Euphorbia 'Diamond Frost.' I love these clouds of airy white flowers!
The spillers: Vinca vine 'Variegata'…
And this charming Bacopa 'Snowstorm Rose'  — a tenacious trailer with tiny pink flowers.
For a reliable thriller, I selected purple-ish zonal geraniums (officially, they are pelargoniums). These stunning beauties require deadheading, but they bloom and bloom until the first hard frost. Related post: How I Prepare Geraniums for Winter Bloom.
Of course, a single plant in a hanging basket can be a thriller too!
For the two baskets suspended from brackets on my pergola, I selected Calibrachoa 'Chameleon Frozen Ice.'  Chameleon is so-named because it changes color throughout the growing season, reacting to light levels, daylength, and other seasonal factors. Just now, the white flowers are brushed with blue, although they certainly look pink-tinged in the photo above! Calibrachoa requires no deadheading. It blooms non-stop until frost.
Food and Water
To keep all of these container plants happy, I water them daily during dry spells. And I give them a weekly feeding of Jack's Classic Blossom Booster at the rate of 1 tablespoon per gallon of water.
In the comments field below, please talk about the container plants that are currently decorating your own patio, deck, or porch. I love hearing from you! xKevin
Hungry for more? Get my email updates.