Last updated on August 16th, 2020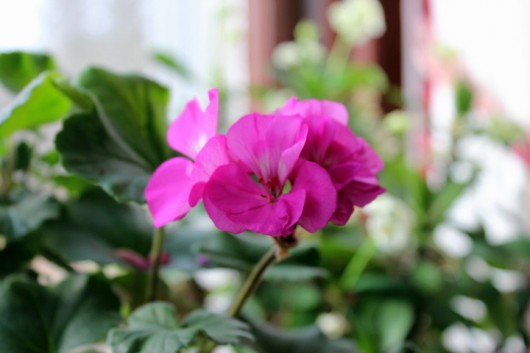 WHEN IT COMES TO OVERWINTERING GERANIUMS, I refuse to be saddled with tired, old, monster-size plants. I want fresh, young geraniums that are eager to grow, and which are small enough to serve decorative duty in the window garden. Do you want what I want? Then let me show you how, exactly, to prepare these popular summer plants for winter-beauty indoors.
Mid-August — or at least 6 weeks before the first expected frost — is a good time to restore and propagate zonal and scented-leaved geraniums.  This gives the plants ample time to recover from root-trauma, and for cut stems to form roots before the big outdoors-to-in transition.
The following restoration and propagation procedures have never failed me: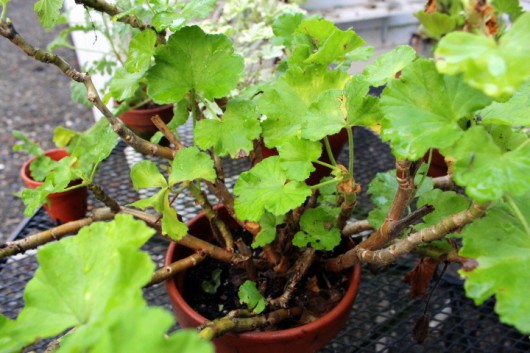 When you are dealing with a zonal geranium that has grown all summer  (such as 'Puritan White', above), the first step is to cut the plant back to within an inch of its life, or to the point where the lowest leaves can be found. Be brutal here.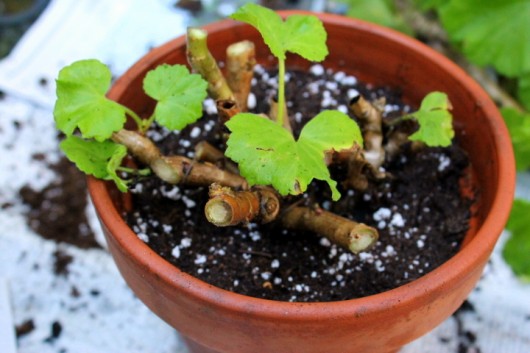 This is what your plant should look like after removing nearly all of the top growth.
Next, knock the geranium from its pot. To do this in a "professional manner," place one hand over the top of the plant, where it can support the soil and top growth. Then invert the pot, and, holding the bottom of the pot with your other hand, bang the rim against a hard surface.
Don't be delicate here — bang firmly!
The plant will pop right out of its pot, and into your waiting hand.
You will probably discover the plant is horribly root-bound. We're going to fix this.
Using a serrated knife, slice off two-thirds of the roots. The amount of roots you remove should be in direct proportion to the now-missing foliage.
Toss the severed roots onto the compost pile.
Then, as pictured above, make vertical cuts to slice through soil and roots. The goal is to be able to center the plant in its old pot, but with a one-half or one-inch gap between the existing soil and the walls of the original pot.
I hope that last above sentence made sense to you.
Now take a good look at your geranium. Do you see any dead or rotting stems?  Cut these off. You'll need only three or four stems which show signs of life.
Place a piece of broken pottery over the old pot's drainage hole…
Then add fresh potting mixture to come approximately half-way up the sides of the pot.
Now center the plant in its pot. If centering seems impossible,  just cut away more roots and soil to create a rounded shape.
Fill in the gap between roots and pot with fresh potting mixture…
And then firm it down with a paint stick, a Popsicle stick, or a plant label (as above).
Properly potted, there will be a one-inch opening between the soil surface and the top of the pot to allow for water.
Soak the plant thoroughly, until excess moisture escapes through the drainage hole. Rinse off any soil which is clinging to the leaves.
And that's it! You now have a newly-restored geranium which will give you pleasure all winter and beyond.
Now, what to do with all the stems we cut ? Well, each of these can become a new plant.
Trim the stems to 3 inches in length.
Then set the stems aside for a few hours (or even a few days) to permit their cut end to dry, or "callus." A callused cut is not likely to rot.
Remove the lower 2 inches of leaves from each stem.
Remove also the stipules, or little flaps along the stem. These can rot in damp soil.
No photo for these next three steps, because I don't think you need them: Take a 4-inch clay pot, and place a piece of broken pottery over its drainage hole. Then fill the pot with fresh mixture.
Insert a pencil in the center of the soil, to a depth which approximates the length of your cutting.
Place the stem in the pencil-dibbled hole…
And then firmly pack the soil down with your thumbs. Or "thumb," if you are holding a camera while you work.
If, after pressing down, the soil level drops more than one inch below the top of the pot, just add a little more mixture and re-adjust the stem.
Water the plant thoroughly (until excess drips through the drainage hole). Should signs of wilting occur, simply mist the leaves once or twice each day until roots form. You will know that your cuttings have rooted when new growth becomes evident.
Set the plant in a bright but sunless location outdoors. Once roots have formed, you can give the youngsters a position that receives half-day sun (or full-day sun in a window garden).
And by the way, you can use these same restoring and propagating procedures for scented leaved geraniums. Sadly, these are becoming rare lately, so propagating them is the only way to guarantee that you will have them from year to year. Pictured above is my rose-scented 'Lady Plymouth.'  You can crush the leaves of this variety, and add them to your bath water. You can also steep the leaves in full-fat milk, and then use the milk to make scented icing for cakes and cupcakes.
If you browse the houseplants category on this website, you'll find pictures of scented-leaved and big-flowered geraniums displayed in my various winter window gardens over the years. In December, 2011, lavender-pink 'Americana' made a handsome sight in my Music Room window.
'America' looks lovely in my Herb Garden, too. Here, it recently attracted a hummingbird moth.
Indoor Culture: To achieve indoor success, give your geraniums all the direct sunlight an east or south window will afford. Restored plants can bloom as early as December, while plants grown from cuttings usually won't set buds until the days lengthen in February or March. Pictured above: Zonal, scented-leaved, and fancy-leaved geraniums in my Library/Den window in February, 2008.
No east or south window for you? Place the plants under fluorescent lights. Illuminated for 16 hours per day, I can tell you that zonal geraniums will bloom in winter almost as well as they do in summer.
Once the plants are growing, I encourage bloom with a high-phosphorous, low-nitrogen plant food. The window garden subjects are fed at the rate of one 1/4 teaspoon formula per gallon of water. I increase the food to one 1/2 teaspoon for the window garden plants, because they receive such long hours of light.
Well. I hope this tutorial was useful to you in some small measure. Perhaps you will let me know by leaving a comment. As always, your words are the sunshine of my life.
Don't miss anything at A Garden for the House…sign up for Kevin's weekly updates.
Related Posts:
How to Design a Window Garden
How I Propagate Petunias for Winter-Bloom
A Walk in the Early-August Garden