Last updated on September 17th, 2020
Updated July, 2020. WHAT'S THE DIFFERENCE between a good Zucchini Fritter and great Zucchini Fritter? Well, first the crust. It should be delightfully crunchy. Then the interior should be firm, smooth, and loaded with good zucchini flavor, plus background notes of fresh lemon and chive. And finally, when you bite into the fritter, you should hear a choir of angels sing. Such exquisiteness is easily achieved:
Angelic Zucchini Fritters 
Ingredients for 15-20 2 1/2- to 3-inch fritters
2 pounds (about 4 medium) zucchini
2 teaspoons Kosher salt, plus an extra 1/2 teaspoon
1 Tablespoon finely chopped fresh chives
Grated zest of 1 lemon, divided
Juice of 1 lemon
2 large eggs, lightly beaten
Grinds of black pepper
1 cup all-purpose flour
1 teaspoon baking powder
Olive oil
1 cup sour cream
Chive blossom petals or snipped chives for garnish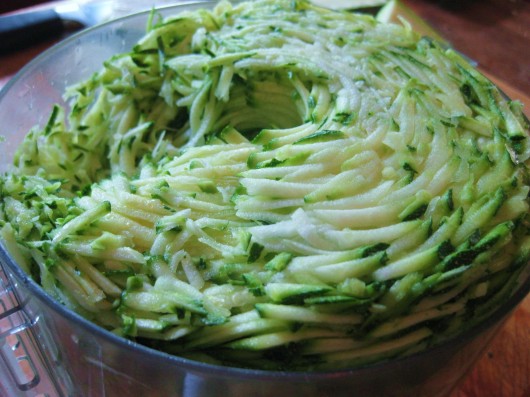 1. Shredding the Zucchini. Slice off and discard both ends of the squash. Cut the squash crosswise in half. Then cut each half lengthwise in half. Shred the pieces on the shredding disk of a food processor.
Pour the shreds into a large bowl, and sprinkle  with 2 teaspoons kosher salt. Give the shreds a toss, then let them drain for about 10 minutes. (This is the same technique I use for freezing zucchini.)
2. Squeezing the squash. Grab a handful of shredded zucchini, give it a squeeze, and then place it in a clean kitchen towel. Twist and squeeze the towel over a bowl or sink to relieve most of the water from the squash. You'll be amazed (I certainly was) at how much water comes out. Pour the squash into a large bowl. Repeat this step for the remaining squash.
3. Flavoring the Squash.  To the bowl of squeezed-out squash, stir in 1/2 teaspoon salt  (the other salt you added will  have escaped with the liquid) and several grinds of black pepper.
Also stir in a tablespoon of finely chopped chives…

And 1/2 of the grated lemon zest…
…and finally, the beaten eggs. I hope you are using local eggs from local chickens. Even my crummy supermarket sells local eggs now. Which means it isn't such a crummy supermarket after all.
4. The flour and baking powder. In a small yellow bowl, whisk together 1 cup flour and 1 teaspoon baking powder.
I can't tell you how often I use this tiny wire whisk. It came to me as a Christmas present, attached to a mug and a package of gawd-awful "Swiss Miss" instant hot chocolate.  Because I make hot chocolate the old-fashioned way, I threw out the powdered (just add water!) mix, but kept the mug and whisk.
Dump the flour mixture into the zucchini, and stir just enough to coat the shredded squash. The zucchini mixture will seem very dry.
5. Frying the Fritters. At this point, pour a glug of olive oil into a skillet. Heat the skillet over a medium flame.
Cast-iron is my skillet of choice not only for fritter-frying, but for open-hearth cooking, too. Such pans are also useful as weapons, and I don't mean in the culinary sense. In the 1960s, housewives commonly  hit  philandering husbands over the head with them.  Or at least they did in 1960s cartoons. I grew up with such cartoons.
I also grew up with Mrs. Olson. Mrs. Olson used to tell young housewives how to make good coffee. So their husbands wouldn't divorce them.
Back to fritter-making. Pick up a cherry-tomato sized clump of  dough. Don't bother flattening it out, or it will  make a mess all over your hands.  As always, I speak from experience.
Lay as many as will fit in your skillet, making sure there is an inch or two of air-space between each fritter. Crowded fritters won't brown very well. Let them fry for 3-4 minutes.
When the bottom of the  fritters have turned a lovely golden brown, flip them over, and flatten them slightly with the back of a spatula.  Cook the other, "non-public" side for only a minute or two. And if the fritters seem to be turning black, not brown, you will have to lower the heat for your next batch.
Drain the morsels on several layers of paper towels. Then, if you are not going to serve them right away, set them on a baking sheet, and keep them warm in a 200F oven.
We need a dreamy dipping sauce which is worthy of these fabulous fritters.
Stir the juice of one lemon into one cup of sour cream. Then stir in the remaining 1/2 Tablespoon of lemon zest.  Pour this mixture into a small bowl.  Arrange the fritters on a serving platter, with the bowl of sauce set in the middle.
And then, if you happen to have a chive blossom in your garden — as I obviously did — snip it, and then rip out its lovely lavender petals.
Scatter the petals over the sauce, the fritters, and in any open space on the platter.
What's that you say?
Your chive plant isn't blooming just now?
Then simply mince a few chives, and use them as garnish.
Or, forget the garnish, and just eat the fritters already. You know you want to.
Hungry for more? Get my email updates and subscribe to my YouTube channel.
Need a printable version of the above recipe? I'm happy to oblige:
Think you'll try these insanely-delicious fritters? You can let me  know by leaving a comment. As always, an angel rings a bell whenever anyone posts their thoughts here.
Don't miss anything at A Garden for the House…sign up for Kevin's weekly newsletter.
Print Recipe
Angelic Zucchini Fritters
Okay. I'll admit it. These Zucchini Fritters are my life!
Equipment
A food processor is helpful shredding the squash

A clean kitchen towel
Ingredients
2 pounds (about 4 medium) zucchini

2 1/2 teaspoons kosher salt, divided

1 tablespoon finely-chopped chives

1 tablespoon lemon zest

2 large eggs, beaten

Freshly ground black pepper, to taste

1 cup all-purpose flour

1 teaspoon baking powder

Vegetable oil for frying

1 cup sour cream

Juice of 1 lemon

Finely chopped chives (or chive blossom petals) for garnish
Instructions
Shredding and salting the zucchini --
Trims ends from squash. Then shred the squash either on the large holes of a box grater or, easier, on the shredding disk of a food processor. Pour the shreds
into a large bowl, toss with 2 teaspoons of the kosher salt, and let drain for about 10 minutes.
Draining the zucchini --
Place a handful of the zucchini in a clean kitchen towel. Over a bowl or sink, twist and squeeze the towel to relieve moisture from the squash. Transfer the squeezed-out squash to a large bowl. Repeat this step for the remaining squash.
Flavoring the dough --
To the bowl of (squeezed) squash, stir in the remaining salt plus several grinds black pepper, 1/2 tablespoon of the lemon zest, and the chives. Then stir in the beaten eggs.
Finishing the dough --
In a small bowl, whisk together the flour and baking powder, then add to the zucchini mixture. Stir just enough to incorporate the flour.
Frying the fritters --
Pour a glug of olive oil into a skillet over medium heat. Scoop out a cherry tomato-sized clump of dough, and place it in the hot oil. Place as many fritters as will fit in the pan, but make sure to leave air space between each morsel. Fry until the underside is golden brown -- 3-4 minutes. Then flip the fritters and fry for another minute or two. Drain on paper towels.
The dipping sauce --
Combine, in a small bowl, the sour cream, lemon juice, and the remaining lemon zest. Garnish the sauce and the fritters with chopped chives or chive blossom petals.