Another day, another project. Recent heavy rains revealed a leak in our dining room ceiling. The culprit? A 19th-century chimney. According to the mason we hired, the chimney is peppered with cracks and holes. Too many holes, in fact, for a mere repointing-job. To banish the drip, the chimney must be rebuilt. And what a fun job that will be. Pictures, details, and a tour of the dining room:
Accessing the chimney is no easy feat. First, the mason placed a ladder in front of the dining room porch.  (The dining room is an 1835 addition to this 1826 house. It has its own roof.)
Then he arranged scaffolding over the dining room roof in order to reach the (much higher) main roof. My palms sweated as I watched the mason climb this stairway to heaven. Are you acrophobic too?
Good news: When Mr. Mason reached his destination, he filmed a video of the chimney so that I (and you!) could see the chimney's deteriorated back side. Bad news: I don't know how to transfer the video from my cell phone to this website. So a screen grab must suffice.
The tear-down and rebuild will commence one week from today. I'll post an update! xKevin
P.S.: Here's a video tour of the dining room. To watch, just hit the play arrow.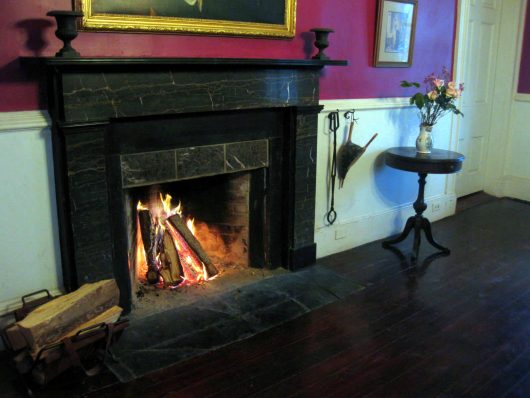 P.P.S.: The chimney is not a fire hazard. It's equipped with a stainless steel liner that runs from the fireplace below all the way up to the top of the chimney. I have the liner professionally cleaned each year.
P.P.P.S.: I'm beginning to doubt the mason. Why? Because the fireplace remains dry no matter how fierce the rain. Does this suggest to you that the source of the leak is NOT the chimney?
A penny martini for your thoughts!
Everybody's doing it: Get my email updates!