Last updated on October 4th, 2021
Yesterday, for the first time in my life, I made — and ate! — Welsh Rabbit. Are you familiar with this cheese-on-toast tavern fare from 18th-century England? Click the "play" arrow above to watch the dish come together in my kitchen. Then scroll down for some fascinating historical notes and a nifty printable recipe:
Welsh Rabbit: Historical Notes
In early 18th-century England, "Welsh Rabbit" was probably a jocular (read: patronizing) description for roasted cheese on toast. The term would be politically-incorrect by today's standards, for it implied that people in Wales were so poor that they ate cheese and called it "rabbit." A put-down for sure, but the name stuck.
Beginning in 1781, Welsh Rabbit was sometimes referred to as  Welsh "Rarebit." What's a rarebit? Nobody knows!
From Wikipedia: Hannah Glasse, in her 1747 cookbook The Art of Cookery, provided recipes for "Scotch Rabbit," "Welsh Rabbit," and "English Rabbit." Check out Hannah's directions:
To make a Scotch Rabbit, roast a piece of bread very nicely on both sides, butter it, cut a slice of cheese about as big as the bread, toast it on both sides, and lay it on the bread.
To make a Welsh Rabbit, toast the bread on both sides, then toast the cheese on one side, lay it on the toast, and with a hot iron brown the other side. You may rub it over with mustard.
To make an English Rabbit, toast a slice of bread brown on both sides, lay it in a plate before the fire, pour a glass of red wine over it, and let it soak the wine up; then cut some cheese very thin and lay it very thick over the bread, and put it in a tin oven before the fire, and it will be toasted and browned presently. Serve it away hot.
Other variations:
Served with an egg on top, Welsh Rabbit becomes Buck Rabbit, or a Golden Buck.
Welsh Rabbit blended with tomato (or tomato soup) is a Blushing Bunny.
The Welsh Rabbit that I enjoyed yesterday (watch the video up top) was adapted, slightly, from a 1950 recipe in The Betty Crocker Picture Cookbook. The cheese is melted in a bechamel sauce that's enhanced with Worcestershire, ale, and mustard. It's truly delicious. I poured the golden lava over thick, toasted slices from a crusty boule.
The crusty boule in question. Here's the recipe.
Update: I made the same recipe this morning, only this time I took the advice of one of my YouTube subscribers, and placed the "rabbit" beneath the broiler for 30 seconds. The result? A Welsh Rabbit that was infinitely more picturesque! (And just as wonderful as its non-broiled kin.)
Have your own, heirloom version of Welsh Rabbit? Talk to me in the comments section below. xKevin
Hungry for more? Get my email updates. 
Here's the printable: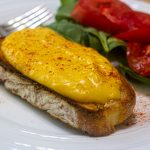 Print Recipe
Welsh Rabbit
Toasted bread topped with a savory cheese sauce. Delicious for lunch or supper.
Ingredients
1/4

cup

butter

1/4

cup

all-purpose flour

1/2

teaspoon

salt

Grinds of black pepper

1/4

teaspoon

(or more, to taste) dry mustard

1/4

teaspoon

(or more, to taste) Worcestershire sauce

1

cup

milk

1/2

cup

beer, ale (I used pale ale), or white wine

2

cups

shredded sharp Cheddar cheese

4

slices

bread from a crusty boule, toasted on both sides
Garnish:
If desired, garnish the cheese with a sprinkling of paprika and/or slices of fresh, in-season tomato
Instructions
Heat the butter in a sauce pan over low heat until melted. Blend in flour, salt, pepper, mustard, and Worcestershire sauce. Cook over low heat, stirring constantly, until the mixture is smooth and bubbly.

Stir in milk. Heat to boiling, stirring constantly. Boil and stir for one minute. Stir in the beer (or ale or wine).

Stir in cheese. Stir over low heat until the cheese is melted.

Promptly pour the sauce over the toasted slices of bread. Garnish with a sprinkling of paprika, and, if available to you, slices of in-season tomato.