CAN YOU JOIN ME FOR COCKTAILS TODAY? Good. Because I'm serving vodka that I've encased in a frozen block of flowers and twigs. This isn't a new trick (it was used by Martha Stewart and others in the early 1990s). But it's a fun thing to do, and the results are always spectacular:
To start, grab an empty, 1/2-gallon juice or milk carton…
And cut off the section above the carton's shoulder.
Next, grab a (750 ml) bottle of vodka out of your file cabinet, and remove its label.
Tip: If the label won't come off easily, use a hair blower to melt the glue.
Place the bottle in the carton.
Can you excuse me for a moment?  An important email has arrived.
Dear Kevin: I seem to be out of vodka. Can I use this method with wine? Please do not publish this email. Sincerely, Carrie Nation
Dear Carrie – I can't recommend wine for this trick. Why? Because the water in wine will expand when frozen, and potentially cause the bottle to shatter. Vodka, on the other hand, won't freeze solidly (or at all). Thus it is safe to use. And don't worry — I'll never publish your email.

Now head outside and clip some evergreen twigs and colorful flowers.
This morning, I clipped the following bits and pieces from my garden:
Hemlock…
Yew…
Boxwood…
Pinkish-blue zinnias…
Goldenrod…
Rosebuds…
Coreopsis (the result of last January's winter-sowing efforts)…
Budleja…
Calibrachoa…
Zonal geranium (Pelargonium), which I grow for winter-blooms…
Torenia 'Summer Wave'…
Deep pink phlox…
And blue ageratum.
Stuff the clipped greens and flowers between the bottle and the walls of the carton…
Then add water to within one 1/2-inch of the carton's rim.
Freeze the works until solid — 4 to 8 hours.
Of course, the vodka itself won't freeze, because of its high alcohol-content.
Immediately before serving, peel away the carton.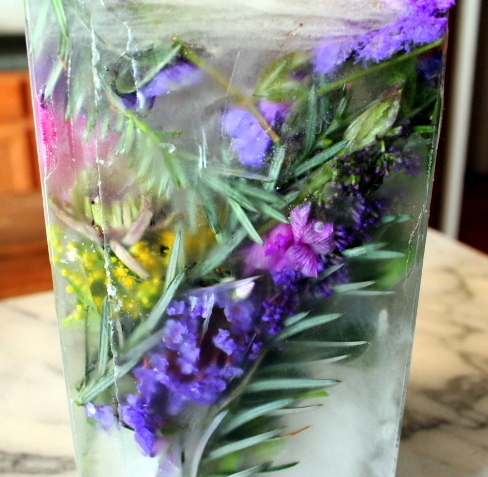 Ta-da!
For today's party, I set this floral fabulousness on a folded cloth napkin, and atop a silver tray. Around the tray are cranberry-colored cordial glasses that I found at a tag sale in Queens, NY.
Tip: When pouring ice-encased vodka, always use a napkin.  The napkin will prevent the bottle from slipping out of your  hand.
Folks, this iced-vodka is easy to do.
And it's elegant to serve.
Cheers!
Don't miss anything at A Garden for the House…sign up for Kevin's weekly updates.
Need some appetizers to accompany iced vodka? I recommend these:
Angelic Zucchini Fritters
Pailettes
Bacon-Wrapped Grissini