Last updated on December 2nd, 2011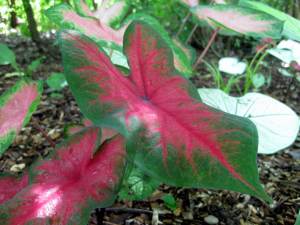 IF YOU HAVE A DEEPLY-SHADED AREA ON YOUR PROPERTY, consider planting Caladium hortulanum there. The leaves, strikingly colored and patterned, are as effective as flowers. I certainly enjoy the psychedelic caladiums that brighten my dark Woodland Garden all summer. Closeups of these deer-proof exotics, and my tips for growing and overwintering them:
C. 'Frieda Hemple' brings a touch of heat to an otherwise cool setting of green ferns and hostas. The leaves, edged in hunter-green, have a large red center and scarlet veining.
Dazzling too is 'Kathleen.' The elephant-ear-shaped leaves have a salmon-pink center, deep-pink veins, and a mottled green edge.
I can tell you there is nothing cooler-looking than the classic, white and green C. 'Candidum.' This one has the same effect on me as a glass of ice-cold Pinot Grigio on a blazing day.
There are many other varieties, too, each one more spectacular than the next. Visit a specialist like this one, and you might be tempted to start a collection.
Caladiums are started from tubers. Don't put these outdoors until it is really warm for they are touchy about cold. Here in zone 5-b it would hardly be safe until after May 30.
A good plan is to start the dormant tubers indoors in early February. Use 6-inch pots of of humussy soil or potting mix. Plant the tubers one inch deep, with the eyes, or little knobs, facing up. Set the pots in a bright but not sunny window, keep the soil barely moist, and 40 days later you'll have gorgeous houseplants.
When summer is a fair certainty, bring the pots outdoors. You can keep the plants in pots, or transplant them to a shady, well-drained location. In any event, provide water weekly (daily if in pots), and feed monthly with a balanced, organic fertilizer.
In October, or when temperatures dip below 60 degrees and remain there, dig the tubers up. Cut off any remaining foliage, and let the tubers dry in the sun for one week. Then give them a 3 month rest in a dry, dark and warm (65-70 degrees) location. I set mine in paper bags filled with dry peat moss, perlite, or vermiculite (whatever I have on hand). In early February you can force them all over again.
The deer who visit my Woodland Garden have eaten the hostas around my caladiums, but not the caladiums themselves. Consequently I will bestow upon these plants the enviable title "Deer-Proof."
Are caladiums for you? Let me know, by leaving a comment.
Don't miss anything at A Garden for the House…sign up for Kevin's weekly newsletter.
Related Posts:
Sweet Woodruff & A Recipe for May Wine
Pachysandra: Exploding the Shade-Only Myth
My Woodland Garden (featured at Garden Design Magazine)