Last updated on July 8th, 2019
I wish you could visit me when my Linden tree is in bloom. From late June through mid-July, this Tilia dangles creamy-yellow, star-shaped flowers beneath its pale-green branches. The flowers are not conspicuous. They announce their presence by exhaling the sweetest, most powerful perfume known to the plant kingdom.
The scent — a blend of honey and lemon peel — is far-reaching. On a warm, still day, it envelopes all four acres here. The bees obviously love the fragrance as much as I do, for the tree buzzes with life throughout its bloom period.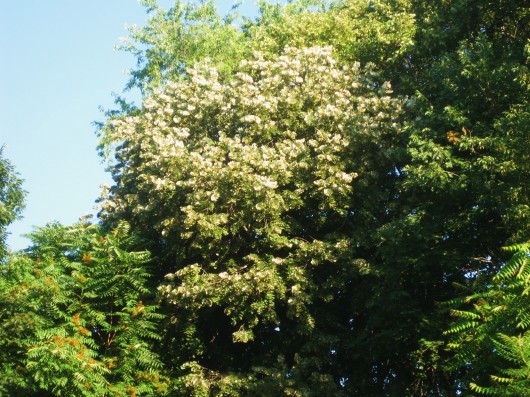 I've read that Lindens can live for 1000 years. This means mine (above, tree with silver-toned leaves) is probably a youngster of about 100 years old. It stands about 80 feet tall and 40 feet wide. It was worth buying this old house (here's a video tour!) just to inherit the tree.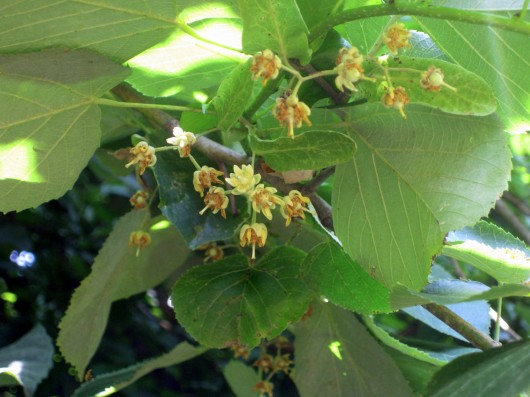 If you already have a mature Tilia on your property, or one in a public park near you, by all means cherish it. The perfume will enchant you, and its shade, on a hot summer afternoon, will soothe you.
Fragrant Linden Tree Varieties
Tilia americana. Not for a small suburban yard, but delightful in a park (or a park-size yard), this "Basswood" matures at 60-80 feet, with a 20-40 foot spread in deep, fertile, moist soil. Hardy zones 3-7.
Tilia cordata or "Littleleaf Linden". This one will tolerate a wide range of soils, and even winter salt, making it ideal for sidewalk planting. That is, until it achieves its potential 30-50 feet height, and 20-30 foot width. Pyramidal in shape; hardy in zones 3-8.
Tilia tomentosa This variety resides on my property.  Leaves are heart-shaped with silvery undersides, giving the tree the common name "Silver Linden." Grows 80-100 feet tall, and 40 feet wide. Mine flourishes in zone 5-b, although the "authorities" say it is hardy in zones 6-9.
Tilia platyphyllos. You will see this imposing, "Bigleaf Linden" lining formal boulevards and grand allees throughout Europe. Despite the nickname, its leaves are no bigger than other lindens, but its stems are covered in long hairs. Hardy in zones 5-8.
In the comments, please let me know if you have ever smelled the blossoms of the Linden tree. Intoxicating, yes?
Don't miss anything at A Garden for the House…sign up for Kevin's weekly newsletter.