Last updated on December 2nd, 2011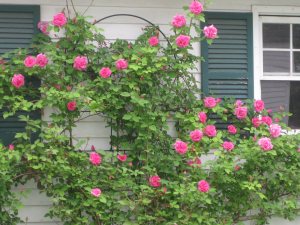 Just now, my green and white garden shed is washed with pink, for on its clapboard wall the delightful Rosa 'Zephirine Droughin' has exploded with bloom. This is the first miracle of June's parade of roses, and there will be others too, very shortly. Let me know if you wish to hear about them. In the meantime, let's discuss the remarkable pink number that is rambling up and across the shed.

Bred in France and introduced to European gardens in 1868, Zephirine Droughin is a rose that invites love. Even in shady conditions and poor soil, it produces three opulent floral flushes each year: June, August, and October. The deep-pink, semi-double flowers are powerfully fragrant. I can only describe the scent as "infinitely inhalable."


Zephirine can be a 6-foot shrub or a 12-foot climber as you please. I prefer to have it climb, and improve the pedestrian architecture of the garden shed. For vertical support, I attached a black, aluminum trellis to the shed. For lateral growth – and you want to encourage this, because it forces more flowering – I simply attached wire to nails on the clapboard siding.
Now, should you decide to train this rose on your house, pergola, or what-have-you, rest assured that you can bend and tie the canes with bare, naked hands. For this rose, as I have said, is remarkable: It does not have thorns.
I don't provide Zephirine with any winter protection, because it is tied to the shed, and thus safe from drying winds. But in a more open position, you will want to mound its base with 18 inches of shredded leaves, shredded bark or plain soil, once the ground solidly freezes. Of course, if you live in zones 6-9, such protection isn't needed at all.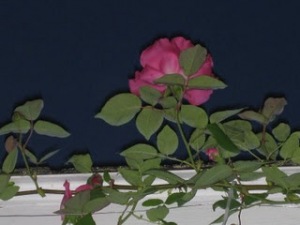 Tolerant of shade, wonderfully fragrant and mercifully thornless, Zephirine Droughin is a definite keeper here at A Garden for the House. I think that you might enjoy it, too.
I can't tell you how much I enjoy hearing from other gardeners. I invite you to post your comments, whatever they are, below.
Related Posts:
Iceberg: A Rose that Glows (in the dark)
Are Roses Really Worth The Effort?