Last updated on January 27th, 2016
TRUE CONFESSION: I'm a granola freak. I make a big batch most Sunday evenings, and then munch my way through it all week long. My latest version is kissed with cinnamon and sweetened with pure maple syrup. It's outrageously delicious. And it's a cinch to make.
The ingredients for this breakfast bliss were inspired by a recent trip to Tierra Farm in Valatie, NY. The farm's retail store offers a dazzling selection of 100% organic produce, including nuts, seeds, and dried fruit. They also sell organic fair trade coffee. I purchased a mixture medium and dark half-decaf beans, which, when brewed, offered a depth of flavor you would not believe.
We can discuss the merits of fair trade coffee beans in a future post. Meanwhile, let's make some crunchy-munchy granola!
Tip 4 cups of organic oats into a 5-quart bowl. For maximum crunch, be sure to use "old-fashioned", not "quick-cooking" oats.
Add 1 cup of shredded, organic coconut…
1 cup of sliced, organic raw almonds…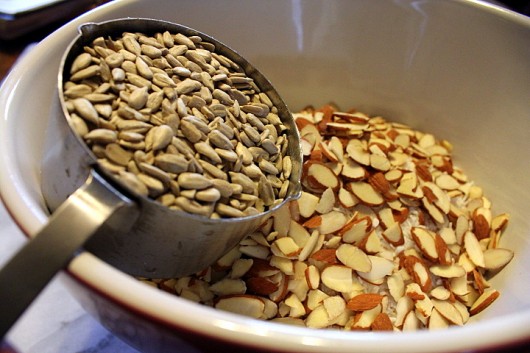 And 1 cup of organic sunflower seeds.
Mix thoroughly with the big green spoon that "spoke" to you at a kitchen supply store.
While taking the worst photograph in your life, stir in 3/4 cup of organic safflower oil.
While taking the second worst photograph of your life, stir in 1/3 cup of pure maple syrup.
Also stir in 1 1/2 teaspoons (or more, to taste) of ground, organic cinnamon…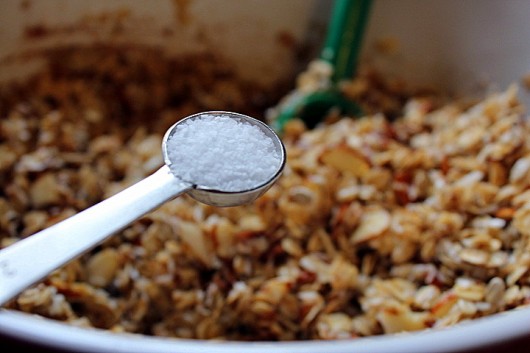 And 1/2 teaspoon of kosher salt.
Stir and stir until every flake, seed and nut is thoroughly coated.
Now line a baking sheet with a piece of parchment paper. I buy this paper in bulk from Amazon. It is pre-cut to fit my baking sheets.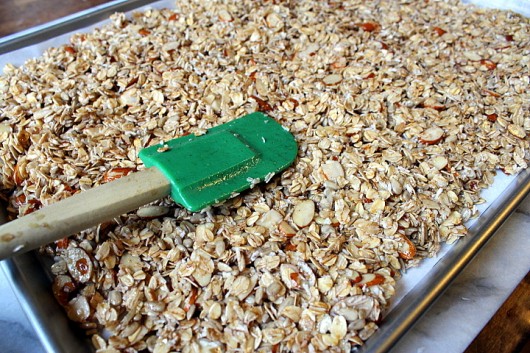 Scoop the granola onto the prepared sheet, and spread it out as evenly as possible.
Bake on the lower-middle rack of a preheated 325°F oven until lightly colored — 40-45 minutes. (I used to bake my granolas at 350°F, and stir them every 7 minutes or so. Mercifully, the lower oven temperature eliminates the need to stir.)
Cool on the tray for 1 hour. Then break up the works (yes, I ate the segment you see pictured above, and yes, it was delicious), and put them in a big mixing bowl. You can, of course, use the same mixing bowl you started with. Just wash it out and dry it first.
Crush the segments with a stout spoon.
And then…
And then…
Gently fold in 1 cup of dried, organic, wild blueberries…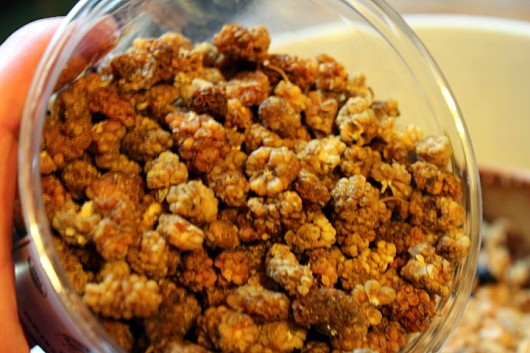 And 1 cup of dried, organic, mulberries.
Can't find dried blueberries or mulberries where you live? Substitute other dried fruit, such as golden raisins and cranberries.
Ready to taste this colorful concerto?
It's yummy with yogurt, milk, or ice cream. I have not tried it with beer.
Folks, I wouldn't hesitate to pour this granola into attractive glass jars, and offer it as a Christmas gift to my foodie friends. It's the kind of unique-boutique gift they would actually use.
Here, for your convenience, is a copy-and-paste of the above recipe. (Not sure how to copy and paste? Watch this short video).
Organic Cinnamon-Maple Granola
Kevin Lee Jacobs (www.kevinleejacobs.com)
Ingredients for 2 quarts of cereal
4 cups organic oats (plain, not "quick-cooking")
1 cup organic shredded coconut
1 cup raw, organic sliced almonds
1 cup organic sunflower seeds
3/4 cup organic safflower oil (or use the oil of your choice)
1/3 cup pure maple syrup
1 1/2 teaspoons organic ground cinnamon
1/2 teaspoon kosher salt
1 cup dried, organic wild blueberries*
1 cup dried, organic mulberries*

*If you can't find dried mulberries and wild blueberries, substitute other dried fruit.

Adjust oven rack to the lower-middle position; preheat oven to 325°F

Tip the oats, coconut, almonds, and sunflower seeds into a large (5 quart) bowl. Stir to combine. Then stir in the oil, maple syrup, cinnamon and salt. Stir thoroughly to insure all ingredients are coated.

Line a baking sheet with parchment paper. Pour the granola onto the sheet, and spread it out as evenly as possible. Bake until lightly browned — 40-45 minutes. Cool on the sheet for 1 hour.

Break up the chunks of granola, and put them in a big bowl. Then crush with a stout spoon or spatula. Gently fold in the dried fruit.

Serve with yogurt, milk, or ice cream.

Store the granola for up to 7 days in a sealed plastic bag or airtight jar.
Don't miss anything at A Garden for the House…sign up for Kevin's weekly email updates.
Related Posts:
Cranberry-Almond Granola
Pumpkin-Spiced Cinnamon Rolls
Perfect, Easy-to-Peel Hard-Cooked Eggs