Last updated on December 2nd, 2011
DO YOU REMEMBER the hyacinths I double-potted back in December? As you can see in the photo above, the upper level have bloomed. The lower bulbs, because they have farther to travel, won't bloom for another 2-3 weeks. Meanwhile, the five presently-open stalks are emitting the most glorious scent in the world, one I can't inhale deeply enough. Here are more photos: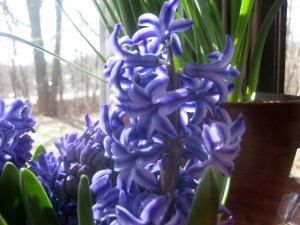 The coloring of these 'Blue Jacket' hyacinths is stunning when viewed up close. The petals are brushed deepest blue and edged in white.
On the broad sill in my music room window, they make an attractive picture in a setting that includes zonal and scented geraniums, and still-to-bloom daffodils.
What's blooming in your window garden these days?
Don't miss anything at A Garden for the House…sign up for Kevin's weekly newsletter.
Related Posts:
How to Double-Pot Bulbs for an Extra-Lavish Display
Forcing Hyacinths in Bulb Vases
Hardy Bulbs for Winter Windows
Meet the Everblooming Sweet Olive (Osmanthus fragrans)
The Fragrant, Fruiting Meyer Lemon
The Easy African Gardenia (Mitriostigma axillare)