Last updated on June 20th, 2014
IF YOU LIKE A WELL-DRESSED DINNER TABLE — I certainly do — then you might like to give your dinner napkins a whimsical shape. The arrow fold above is extremely easy to do. Have a look:
A reasonably-thick cotton or linen napkin will hold this fold without the stiffening amendment of starch.
The procedure:
First, fold the napkin in half, with the open end facing you.
Then grab the top right corner, and fold it down to create a triangle, as shown.
Do the same with the top left corner.
Fold the right triangle in half diagonally, so its outer edge lines up with the far right edge of the napkin.
Make the same fold with the left triangle.
Lift up the center of the napkin…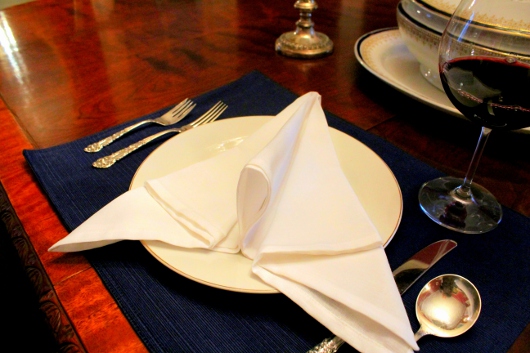 Et voila — you've got an arrow! Point it towards someone you love.
Incidentally,  you don't have to wait for a big dinner party to give your table a romantic flourish. I do these napkin folds even when it's just me and Will for dinner.
Wanna watch me turn other napkins into other shapes? Then by all means leave a comment below. It's always a pleasure to hear from you.
Don't miss anything from A Garden for the House…sign up for Kevin's weekly email updates.
More fun:
Nifty Napkin Folding 101: The "Fleur de Lis"
Cleaning the "Master" Bedroom
How I Prepare Geraniums for Winter Bloom Indoors