Last updated on November 10th, 2020
Per the little number generator at Random.org, the winners are #86 Michele, #130 Joy, and #314 Christopher. To collect your loot, just send me a note (click here) and be sure to include your shipping address!
Today, because the season of pie is nigh, I'm giving away a very special pie pan. What makes this pan unique is its perforated sides and bottom. The tiny mafia holes permit hot air from the oven to evenly brown and crisp the pie dough. That's right — no more soggy-bottom pies! And get this — there's no need to blind-bake the crust first if you are making a quiche. To learn more, watch the video below, in which I give the pan a trial run. Then enter the random drawing:
In the video above (click the "play" arrow to watch), I'll discuss the pan's dimensions. Then, for the sake of experiment, I'll make and bake a pie for you!
Some pictures for you:
Thanks to the holes in the pan, the sides of my pie were perfectly baked.
Also baked to perfection was the bottom crust. I love this hole-y pie pan!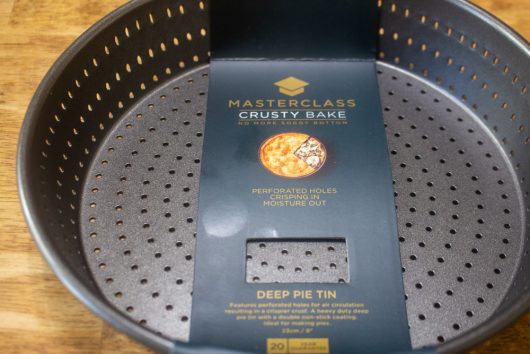 The pan is sold as MasterClass "Crusty Bake." I purchased my pan — and the three I'm giving away today — from Amazon. Click here to read verified purchaser reviews of the pan.
Now onto the random drawing! To enter, simply post a comment below. As usual, I'll use the little number generator at Random.org to select the winners.
The Rules:
Only one comment per person, please.
Enter soon! This random drawing expires at midnight EST on Monday, November 9, 2020.
Winners names will be announced at the top of this post on Tuesday, November 10, 2020, so be sure to check back!
Good luck everyone! xKevin
This giveaway is sponsored entirely by Kevin Lee Jacobs.