Last updated on October 20th, 2019
Looking for a great apple recipe that doesn't require two crusts and a pie plate? You've come to the right place! Here are my all-time favorite apple recipes, all tried and true and ready for you:
My Favorite Apple Recipes: Savory
Dijon Pork Chops with Cabbage and Apples. We're fond of pork chops, Mr. Fox and I. We love them broiled, baked, or grilled. We also love them roasted on a sheet pan, alongside wedges of red apple and ribbons of green cabbage. This latter preparation is a complete meal that cooks up in just 30 minutes, and oh, man — it's delicious! Click here for the recipe.
Apple Salad with Pumpkin Bread Croutons. This autumn starter or main course is composed of the best stuff on earth: leafy greens, crisp apples, red onion, tart cranberries, tangy goat cheese, shimmering orange-ginger vinaigrette, and sweet cubes of toasted pumpkin bread. My favorite autumn starter. Here's the recipe.
My Favorite Apple Recipes: Sweet!
Rustic Apple Galette. This dessert checks all the right boxes for me: delicious, dramatic, addicting. Red currant jelly gives the tender apple slices a sexy sheen. Here's the recipe.
Puff Pastry Apple Blossoms. This week, to celebrate the start of apple season, I made some scrumptious little desserts called "Apple Blossoms." The flower petals are thinly-sliced apples, arranged on strips of store-bought puff pastry dough. Looking for an elegant tea-time treat or after-school snack? Click here for the recipe.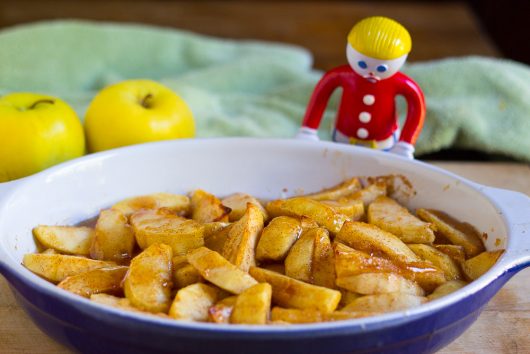 Baked Apple Slices. They are noble things, baked apple slices. Think of apple pie, minus the crust. I like to toss the slices over oatmeal for breakfast, or bury them beneath ice cream, sour cream, or whipped cream for dessert. Alternatively, you can fold them into puff pastry for Apple Turnovers, or roll them into egg crepes for Caramel Apple Roulades. Here's the recipe.
Caramel Apple Roulades. Too luscious for words. But I'll try. The buttery, lemony, caramel-y apples are rolled up in gluten-free egg crêpes, and then baked until crisp and fragrant. A cloud of confectioners' sugar and a drizzle of caramel completes the picture. I hope you're drooling right now. Click here for the recipe.
Shortbread Apple Pizza. The shortbread cookie crust is tender but dense (just like me). The apples are flavored with only brown sugar and dots of  butter. Need a not-too-sweet treat for Afternoon Tea? Here's the recipe.
Rustic Apple Cake. I made this simple dessert the other day, and then promptly inhaled almost all of it. What a perfect autumn cake! Rich. Buttery. Deliriously-scented with cinnamon, lemon, and nutmeg. It's pretty to look at, too. My simple recipe.
Double Decker Apple Crisp. This is my world-famous recipe. (In my dreams.) The apple slices are baked between layers of streusel, which gives a glorious crispness above and below the soft middle. Don't make me beg you to try it. Here's the step-by-step.
Think you'll give some of these apple recipes a try? Talk to me in the comments field below. And please stay tuned. I picked up a big basket of apples from my local orchard this morning, and now I can't wait to create more apple goodies for you!
Hungry for more? Get my delicious email updates.