Last updated on April 10th, 2021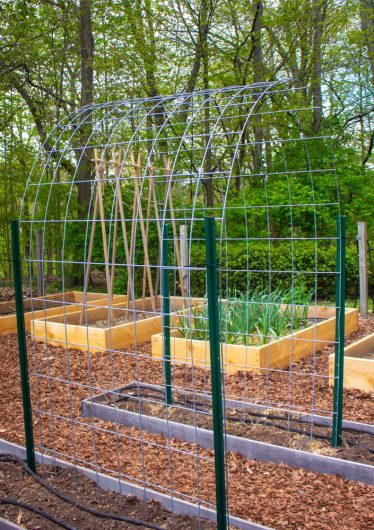 Updated April 2021 What possessed me to install cattle panel trellises in my kitchen garden? The desire to grow winter squash. If allowed to sprawl, the squash would soon swallow my whole plot. Consequently, I decided to grow the vegetable upwards, not out. A cattle panel is strong enough to support the heavy crop. More about the panels, and how to install them:

What's a Cattle Panel?
Intended for the corralling of  — you guessed it — cows, a cattle panel is heavy gauge galvanized welded wire fencing material. The panels are not particularly heavy but they are certainly rigid. Also, they last a lifetime and are inexpensive to buy. I purchased my panels from Tractor Supply for $23.95 each. The only caveat? The panels measure 4 feet wide by 16 feet long. You need the means to transport them!
How to Install a Cattle Panel Trellis
Now, a normal person would ask for help when installing a cattle panel trellis. But I am not a normal person. In the above video, watch me effortlessly install and form a gracefully-arched trellis without any help at all.
Some important points:
Use T-stakes (or are they called "T-bars"?) to brace the cattle panel. I used 6-foot stakes for my first trellis. Then I got wise, and used 5-foot subjects for the second one. Use a proper mallet to pound the stakes into the ground. On the "not-a-normal-person" theme, I used a common hammer for the job.
Once the panel has been arched, its own tension will hold it in place. To be on the safe side, use zip-ties to lock the sides of panel to the T-bars.
Here's the first trellis I installed…
And here's its adorable sibling.
As mentioned in the video, my trellises are intended for the vertical growing of butternut squash. You might like to use the same panels to support cucumbers, pole beans, or some other vining crop. The panels could definitely be used for indeterminate tomatoes, too. I grow my own tomatoes on wooden A-frame support. 
I will show you the cattle panel trellis/arbors once my squash begins to climb them. In the meantime, thank you for spending a few precious moments with me today. I hope this gardening tutorial was helpful to you in some itsy-bitsy way!
Update! Wanna see how butternut squash grew on the cattle panel? Watch the above video!
And speaking of winter squash…I have some great recipes for you to try:
Butternut Squash Pancakes. These are loaded with beta carotene and terrific cinnamon perfume. Click here for the recipe. 
Kevin's Caramelized Butternut Squash Soup. Check out this blissful brew of caramelized squash, smokey bacon, savory thyme, and smooth sherry, all blended to perfumed perfection. Click here for the recipe.
Gobble-Gobble Squash. The squash is filled with a simple saute of ground turkey, tomato paste, Worcestershire sauce, red wine, sage leaves, and a flurry of Parmesan cheese. In other words, it's something that belongs on your dinner table! Click here for the recipe.  
xKevin
Hungry for more? Get my email updates.