Last updated on January 12th, 2015
Crème Fraîche (pronounced "krem fresh") is the mild tasting, French version of sour cream. It makes a gorgeous garnish for hot or cold soup. It does wonders for a baked sweet potato. Spread it on toast points, and you'll have an elegant base for Beluga caviar. The crème is hideously expensive when purchased from a supermarket. But you can make your own version for pennies, just as I do:
Warning! The ingredient list for Crème Fraîche is very long.
So I hope you're holding a stiff drink.
You will need each of the following:
1 cup of heavy cream…
1 tablespoon of yogurt…
And 1 beagle, who will gladly watch you make Crème Fraîche.
To start, pour the heavy cream into a glass jar or a plastic tub. For today's Crème Fraîche adventure, I used two containers: a small PABA-free tub, and a 2-cup glass measure.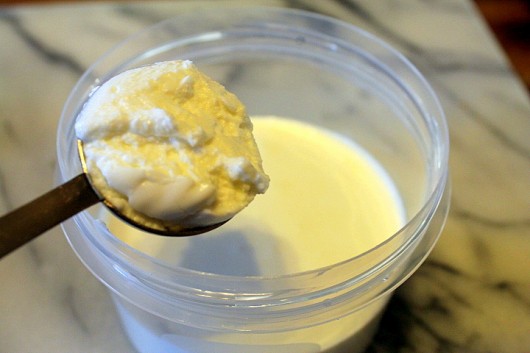 Next, add the tablespoon of yogurt…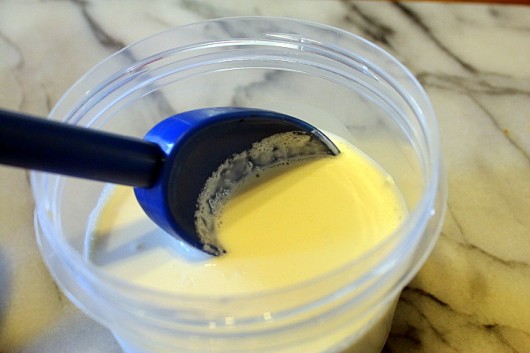 And stir it into the cream with a bright blue spoon.
Then set the container in a warm location. Since my kitchen is very cold just now, I placed my tub and glass measure on a common heating pad. This is the same pad I use for raising yeast doughs, including Pain de Mie. The pad costs $20 at any two-bit drug store.  I use the "low" setting.
You don't have to cover your container(s), except to keep dust or pet hair out of the works. I covered mine with a blue and white towel.
This next step will probably cause some of you to clutch your pearls: Let the cream and yogurt lounge and luxuriate in their warm spot for 24-36 hours.
BUT KEVIN, WON'T THE CREAM TURN RANCID IN A WARM ENVIRONMENT?
No, my friends, the mixture won't turn rancid during the warm sojourn. You see, the good bacteria from the yogurt will wipe out any bad bacteria. And that's a fact, Jack. Or Gertrude.
As the good bacteria multiplies, the cream will turn thick and rich.
Further thickening will occur after you've refrigerated the cream for several hours.
Covered and chilled, your Crème will remain  Fraîche (fresh) for 7-10 days.
Earlier, I mentioned that Crème Fraîche was a God-send for soups and potatoes. But it's also knock-your-socks-off-delicious when spooned onto a wedge of Cranberry-Almond Tart. The tart in question is begging to be eaten. Care for a bite?
As you can see, Crème Fraîche is extremely easy to make.  Do me proud and make this French fabulousness, okay?
Don't miss anything at A Garden for the House…sign up for Kevin's email updates.
Related Posts:
How to Make Greek Yogurt
Homemade Mozzarella in 30 Minutes
The Best Lemon Tart in the World