What a difference a few weeks makes! When we last visited the Kitchen Garden, the butternut squash was just beginning to ascend its cattle panel trellis. Now the plant has climbed all the way to the top! Check out the riotous vines and more in this virtual late July tour:
Late July Kitchen Garden Tour
Beds 1 and 2: In these, I planted one butternut squash seedling on either side of a cattle panel trellis. Although the plants were attacked by a trespassing woodchuck last month (see how I thwarted the critter), they have fully recovered now.  I love to pass through this enchanting tunnel of leaves and fruit.
Did you know that winter squash has a high I.Q.? When grown horizontally, the plant produces only thin, stringy vines. Grown vertically, the vines become quite thick in order to support the hefty fruit. Consequently no supplemental support is required.
Beds 3 and 4: In these narrow beds, 'Emerite' pole beans clamor up and over a cattle panel trellis. From reports I've read, Emerite's long, slender beans do not become woody as quickly as bush beans do.
I like to eat the beans raw, straight off the vine. They are delicious too when coarsely chopped and tossed into a Lebanese salad called "Tabbouleh." I made Tabbouleh the other day, and filmed the recipe for you. Click here to watch.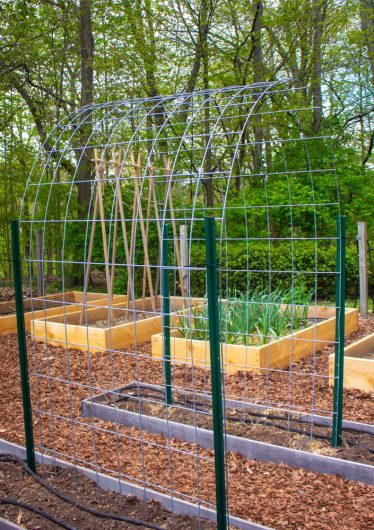 Oh. Wanna watch me install a cattle panel trellis? Here you go. 
Bed #5: Potatoes. These are busy maturing beneath their "hilling" of straw. I won't harvest the spuds until late fall, when my cellar is cool enough to accommodate them. Here's how to plant, grow, harvest, and store potatoes.
Bed #6: Brussels sprouts (foreground) and storage onions. The Brussels sprouts were attacked by a woodchuck last month. Although the plants are slowly recovering, I do not have high hopes for them. Mercifully the onions were spared. They are thriving now beneath the searing summer sun.
Bed #7: Lovage and cosmos. This bed contained a dozen broccoli plants, too, until the aforementioned woodchuck discovered the crop.
Bed #8: Asparagus. No picture here, because you-know-who forgot to take one.
Bed #9: Snap Dragons. These flowers are not only beautiful to look at — they are woodchuck-proof! Snap Dragons bloom and bloom until the first hard frost.
Bed #10: Tomatoes. Most of the vines have reached the top of the wooden A-frame trellis that I built for them last spring. The vines are heavy with fruit!
Beds 11 and 12: Garlic and more Butternut Squash. The foliage of the autumn-planted garlic (foreground) has mostly yellowed, signaling the bulbs below are ready for harvest. Later today I'll pull up the bulbs, and set them to cure in the shed. Can't remember when and how to harvest garlic? Check out my garlic growing guide.  
Also, check out the second crop of butternut squash! I planted it a little later than the first crop (in beds 1 and 2), and already it is making a good show on its cattle panel trellis.
And that's all, folks! Now please tell me about your own veggie garden. How are your plants progressing in the late-July heat? Talk to me in the comments field below. xKevin
Hungry for more? Get my email updates and subscribe to my YouTube channel.