Last updated on August 5th, 2014
IN AUGUST, the perennial garden winds down…and the veggie garden explodes. It's time to pickle the cukes, sauce the tomatoes, and freeze the broccoli and beans. Then there are annuals to propagate, bulbs to order, and…anyone else need a Valium?
More anxiety! My garden will be open to the public on Saturday, August 16, 10AM-4PM. The tour benefits the good work of the Garden Conservancy. If you'd like to attend, just visit the Garden Conservancy's website for details.
Container Plantings. These will keep their looks until frost if you remove spent flowers regularly. Remember that container plants must be fed and watered daily — twice daily, in fact, during periods of high heat.
Petunias, Wax Begonias, Impatiens. I take cuttings of these in August, and root them in pots of good soil. Brought indoors before frost, the tender plants provide cheerful bloom during the dark winter months. The how-to.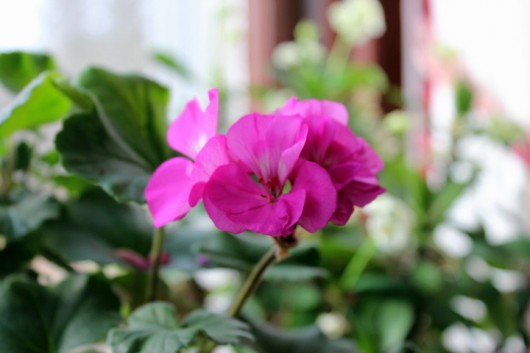 Geraniums (Pelargoniums). I prepare mine for winter-bloom this way.
Bulbs. It's the early gardener who gets the best tulips, hyacinths, narcissi and other spring bulbs. Order now to avoid disappointment. I obtain most of my bulbs from this source; for special, heirloom varieties, I shop here.
Daylilies. Following a heavy rain, divide and transplant big clumps. (I hope you have fragrant yellow 'Hyperion,' pictured above, in your daylily collection.)
Lawns. Let the weather, not the calendar, dictate your mowing routine. Do not mow at all during times of drought.
Perennial Seeds. If you are feeling energetic, sow next year's crop of delphiniums, asters, hollyhocks and other perennials anytime now. Or, you can wait — as I do — and winter-sow the seeds during the less-harried months of January and February.
Roses. Continue to deadhead. Also, fertilize one last time for autumn bloom. If blackspot is a problem, you'll find an organic treatment in you refrigerator.
(I'll admit my own roses look rather pathetic just now.  Only a few survived the horrid winter of 2014. Even my Knock Outs were knocked out.)
Veggies
Beans, Green. Better harvest and preserve these before they get old and woody. How I freeze green beans for winter use.
Beets. If you hurry, you can get another crop in for autumn harvest. Otherwise, dig up roots and freeze or can them. I freeze mine.
Broccoli. Keep an eye on the green heads, and be sure to cut them before they go to flower. Want to freeze your crop? The directions are here.
Brussels Sprouts. Stake tall plants that have fallen over. Begin to harvest the green, cabbage-like sprouts from the bottom of the stalk. Sprouts higher up will mature later. They become even sweeter after they endure a light frost.
Garlic. Harvest when the green tops turn yellow. How I plant, grow, harvest and store garlic.
Kale. Keep picking, and the plant will keep producing leaves until checked by the first hard frost. Lately, I've enjoyed turning some of the leaves into these crisp, nutritious Kale Chips. 
You might like to freeze your kale and other leafy greens for winter use. I freeze mine this way.
Onions. Harvest when green tops fall over. How I harvest, cure and store onions.
Shallots. Harvest when the green tops show brown at the tips. Cure and store as for onions.
Peas. Sow your storage-crop early this month.
Potatoes. Although you can harvest these anytime after vines die back, I always leave mine underground until October. Why? Because my cellar isn't cool enough before then to store the crop. How I harvest and store potatoes.
Tomatoes. I hope you'll turn some of your large, ripe tomatoes into this simple but swoon-worthy Tomato Pie.
Zucchini. Too many to deal with? Freeze the squash. And don't forget to make these Angelic Zucchini Fritters. They are devilishly delicious!
Don't miss anything at A Garden for the House…sign up for Kevin's weekly email updates.
Related Posts:
Tomato and Goat Cheese Tart
Flower Arranging How-To: A Sumptuous Summer Centerpiece
Limoncello Cookies