Last updated on January 23rd, 2022
For me, a vase of golden forsythia is the perfect antidote to the winter blues. Cut the stems in January or February, and they will bloom for you about two weeks later.  Of course, the twigs will appear dead at first. But the flowers are there, just waiting for the warmth and light your windows can provide. Here's my easy forcing-routine:
No matter how frigid the weather, go out with sharp pruners and gather some forsythia bouquets. I clip mine from the big shrub in my front yard (above), even when the branches are caked with ice. Choose branches of varying lengths and shapes for the best sculptural effect.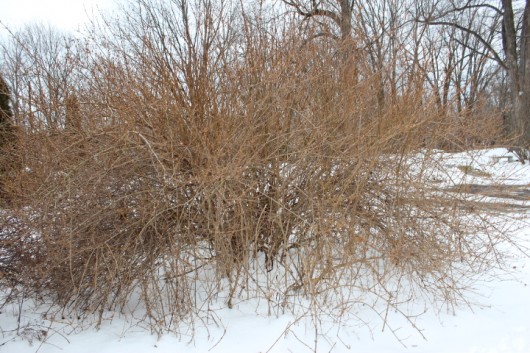 Fun Fact #1: Forsythia requires only 30 cumulative (not consecutive) hours of below 40-degree temperatures in order to bloom. That's why the branches can be forced so early in the year.
Fun Fact #2: Forsythia is named for William Forsyth (1737-1804). He discovered the shrub while on a plant-hunting mission in China.
Fun Fact #3: It warms my heart to know that you appreciate fun facts.
And here are the branches I collected. As you can see, I'm not wearing gloves on this nippy day. So let's head back to the house, okay?
Brrr!
Indoors, cut the stems to attractive bouquet lengths. Also, cut off any side-shoots that would otherwise be submerged in the vase. You can force these tiny trimmings, too. Just place them in tiny vases.
I put some of my trimmings into these nifty "hanging" vases in the music room window.
In any event, be sure to smash the base of each stem with a hammer.  Smashed stems will quickly absorb water.
After you smash the stems, you'll notice some green tissue beneath the bark. The green is the cambium layer, and it is responsible for producing new roots and new shoots, and for making new tissue to heal over wounds. To discover if a woody plant is alive or dead, just scrape off a bit of bark. If the cambium layer is green, you can be sure the plant is very much alive.
To keep the water sweet, add a drop of household bleach to the vase. Then insert the stems.
I set my vase on the plant stand in front of a tall, south-facing window in my parlor.  The branches, even when dormant, make a fascinating silhouette.
I like to place 'Blue Jacket' hyacinths in the same window as the forsythia. Last October, I set these bulbs "on vase" and then chilled them for 12 weeks in a spare refrigerator. Hyacinths require this cold, dark treatment in order to bloom.
As you can see, the vases are small enough to fit on the latch ledge of a window.
Hyacinths, in bloom on the latch ledge.
And here are the forsythia branches, all covered with glowing, golden flowers. I placed pink wax begonias (these are great houseplants) around the forsythia vase. On the lower shelf are pots of purple and white Primula obconica (obtained from the florist).
Need a little color in your life? Tromp through the snow today, and collect an armful of "dead" forsythia twigs. These, in very short order, will produce an extraordinary spring portrait for your home.
And if you enjoyed this article, by all means drop me a line in the comments field below. As always, I love to hear from you.
Hungry for more?  Get my email updates.
Related Posts:
Plant Propagation: Layering
African Violets: How I Achieve Constant Bloom
Forcing Hyacinths for Winter Bloom