Last updated on June 28th, 2015
HOW ARE YOUR VEGGIES PROGRESSING?  Any troubles to report? My own kitchen garden, above, is at the "in-between" stage. This means the cool-season lettuce has retired, but the beans, broccoli and tomatoes are just starting their careers. My "farm report," followed (I hope) by yours:
Here is a southern view of the Kitchen Garden. As you can see, I set a pot of lavender-pink,  greenhouse-grown "Supertunias" in the urn which sits in the center of the garden. Flowers in a veggie garden are necessary in order to attract the bees, butterflies and other insects which pollinate the crops.
The Supertunias, up close and personal. Unlike regular petunias, these small-flowered hybrids are "self-cleaning" — there's no need to deadhead them. I feed and water them daily (twice daily during periods of high heat), and they reward me with endless bloom.
My fall-planted, hard-neck garlic has produced its beautiful, curly scapes. I always remove these "flower" stalks in order to encourage further development of the bulbs below. The scapes are incredibly delicious — I turn them into a mean, green pesto. Not sure when to harvest or how to cure and store your garlic? Maybe my Garlic Sowing & Growing Guide will help.
This morning, after hearing that 94-degree heat is expected later this week — and not a drop of rain in sight — I mulched most of the raised veggie beds with chopped straw. This straw is specially heat-treated, and consequently virtually weed-free. It is easy to work with, and it really locks in moisture (always water beds deeply before applying the mulch.)
The bed above contains about 100 'Copra' onions. Copra is an excellent storage onion. How I harvest, cure, and store onions. 
My 'Nutri-Bud' broccoli  is already making tiny heads. I planted this heirloom variety last year, too, and boy was it pokey. Perhaps the cottonseed meal I sprinkled on the bed at planting time in May has made all the difference.
Heirloom tomatoes — that's 'Cherokee Purple' on the right — are moving slowly but surely. To encourage flowers,  I feed my tomatoes just as I do my African violets — with a  low-nitrogen, high-phosphorous "blossom-booster," at the rate of one tablespoon per gallon of water. The application is made once every two weeks, or as needed.
Because the tomatoes are growing up a tee-pee trellis, I still had room in the bed for bell-pepper plants. I don't know about you, but I can't have enough bell peppers. I turn them into "piperade," which I then  freeze for winter-use. Peppers, I've discovered, also benefit from at least one application of "blossom booster."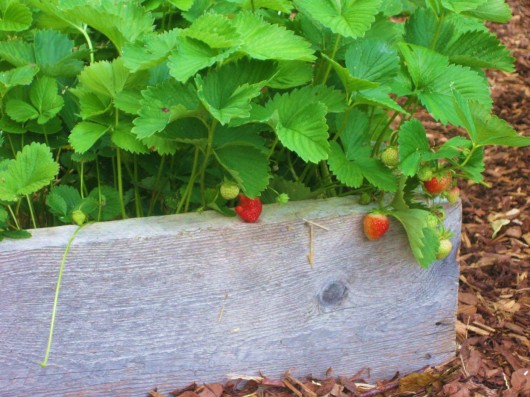 Also in the Kitchen Garden are 'Sea Scape' strawberries. I disbud these day-neutral beauties during their first 5 weeks of flower production. Yes, disbudding is a tedious job. But the reward is a continuous parade of large-size fruit right up until frost.
Also in the garden are potatoes, kale, dahlia-flowered zinnias (which haven't budged in weeks) and…

Bachelor Buttons (Centaurea cyanus). I winter-sow these Centaurea cyanus each year, because they are among the honey bee's best friend. I also plant them because…well, because I'm a sucker for blue flowers of all kinds.
There are even more veggies growing "downstairs" in the Herb Garden. We can look at those beds at a future date. Meanwhile, what I really want to know is…how are your own veggies coming along?
Don't miss anything at A Garden for the House…sign up for Kevin's weekly newsletter.
Related Posts:
Creating a Raised Bed Garden
De-Suckering My Tomatoes
Keep Monsanto OUT of Your Veggie Patch