Last updated on December 2nd, 2011
ONIONS, ONIONS, AND MORE ONIONS — I've already planted 275 this spring, the amount I'll need during the year. I buy most of them as seedlings, which come crammed together in small trays like the one pictured up top. Of course, each seedling must be disengaged from its root-bound kin in order to produce a good-sized bulb in the garden. Let me show you a nifty way to separate the seedlings without damaging their roots, and also how to plant them out for a colossal harvest:
First, invert the tray. Out will come soil and seedlings all in one clump.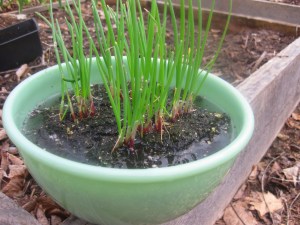 Next, place the whole clump in a bowl of water. Move the mass of seedlings up and down in the water several times in order to loosen the soil.
Finally, with roots still under water, gently pull the seedlings apart. You will find that roots untangle themselves without a fuss, since there is little soil clinging to them.
If your seedlings are to grow in the open garden, first loosen the soil to a depth of six inches. Otherwise, plant them as I do, in a raised bed filled with good, loose compost. Be sure to plant deeply enough so that both roots and tiny bulblet are covered with soil.
As for spacing, simply imagine the size onion you want, and then arrange the seedlings accordingly. Usually this means 4-5 inches between each plant.
Onions require full sun, deep weekly watering, and monthly feeding with a balanced, organic food. Stop feeding when green tops fall over. To help conserve moisture, and also to keep weeds down, mulch when tops grow 6 inches tall. I mulch mine with a 2-inch thickness of either salt-hay substitute of shredded leaves.
Need advice on harvesting and storing your onions? The details are here.
Don't miss anything at A Garden for the House…sign up for Kevin's weekly newsletter.
Related Posts:
A Walk in the Kitchen Garden
Welcome to My Herb Garden
Recipe: Whole, Roasted Onions