Last updated on August 19th, 2018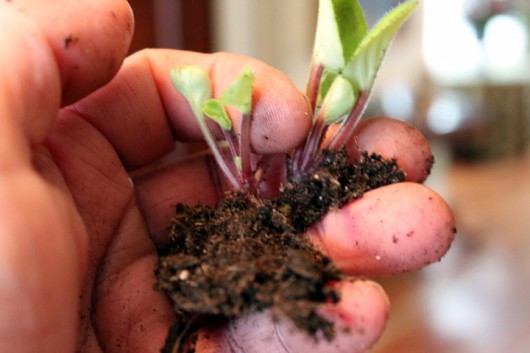 I CAN ASSURE YOU that African violets are very easy to propagate. Just stick a stem in damp soil, provide abundant humidity, and in eight weeks time you'll be greeted with numerous new plants. What the babies look like, and how to separate and pot them successfully: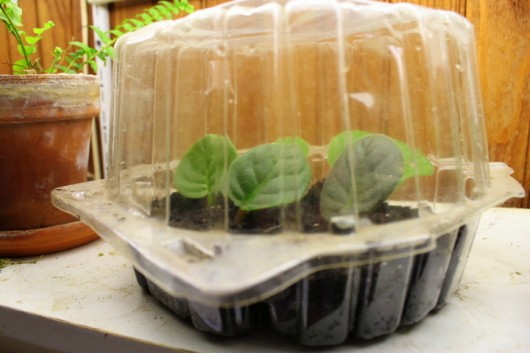 First, the back story. On November 27, 2012, I snipped off five leaves from various plants. The leaves were then inserted in damp potting mix that I poured into a Boston lettuce tub. The tub provided a pleasantly-humid environment for the cuttings. So humid, in fact, that I did not have to water the soil until the babies emerged.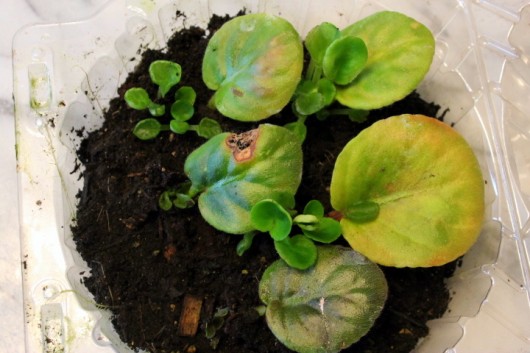 By February 13, each leaf had sprouted a number of offspring. I posted the above photograph on Facebook that day, with the caption  "Pass the cigars — I'm a daddy!" You see, even after 40 years of propagating African violets, I still get a thrill when  little plantlets spring forth.
Probably I need to get out more.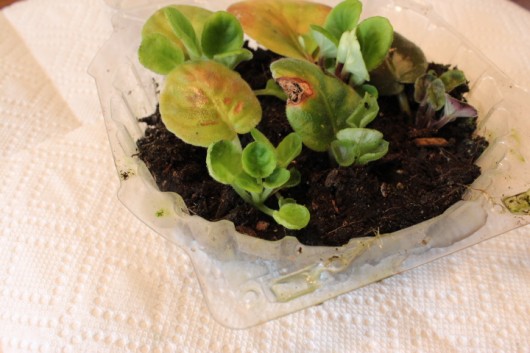 I let the babies grow for several more weeks until they were large enough to handle. True, the mother leaves started to deteriorate during this time.  But the youngsters grew and grew.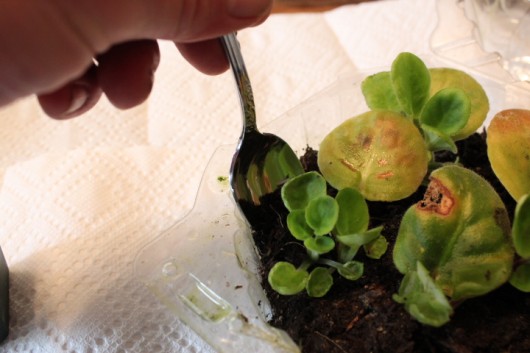 To retrieve a mother leaf and her little ones, scoop under the soil with a spoon. Or, gently lift up the group with your fingers, being careful not to sever roots too severely.  (A little root-mangling is unavoidable.)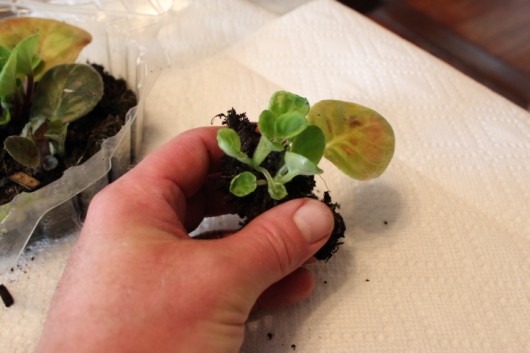 Make no mistake — there is never, in my experience, "just one" baby attached to a parent leaf. The above leaf gave birth to twins. And she would have produced triplets, quintuplets, or even octuplets if I'd left her in the soil longer. Consequently, look carefully to determine how many rosettes of leaves are evident. Each rosette is a complete plant.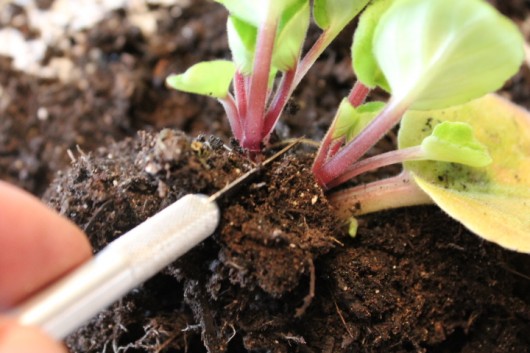 To separate the rosettes, cut between them with scissors or a sharp knife — a pen-knife works well — as illustrated above.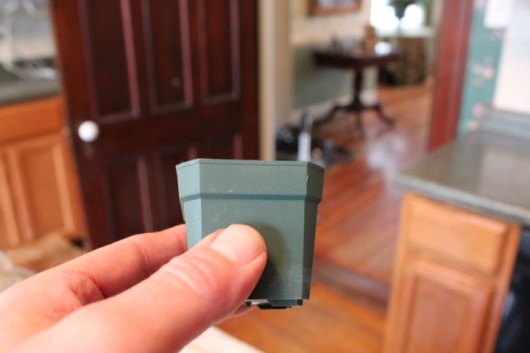 Now select a pot with drainage holes for each young plant. The pot must be no larger than 2 inches in diameter. Why?  Because a larger container will hold too much soil. Too much damp soil around a small root system can lead to root-rot.
For today's African violet adventure, I used both clay and plastic pots.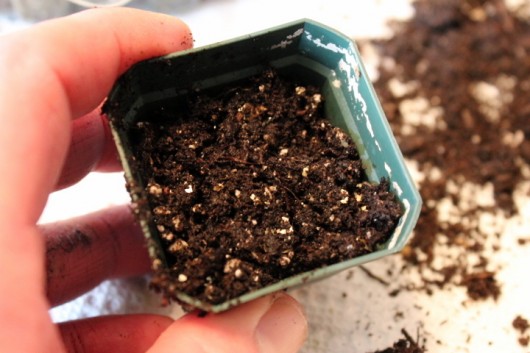 Fill the pot  with any damp, well-draining medium. A 50/50 blend of leaf mold and perlite will suffice, as will any commercial peat and perlite formula. You do not need a special "African violet" potting mix.
Be sure to leave a 1/2-inch opening between the surface of the mix and the rim of the pot to allow for water.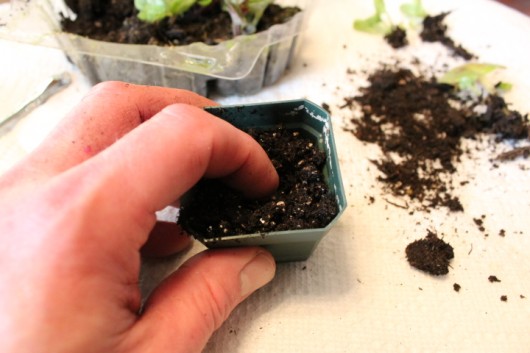 To accommodate roots, use your finger to make an indentation in the center of the pot.
Next, insert the rosette, adding a little more mixture to cover roots.
Then firm the medium gently.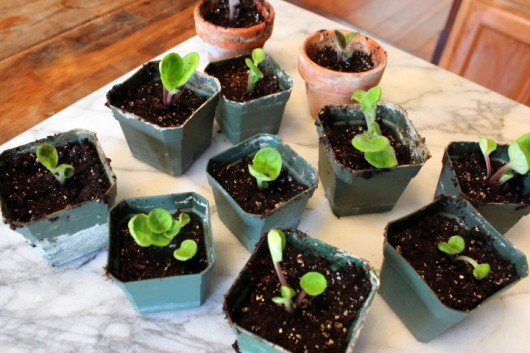 As you can see, I achieved 11 new plants from my propagation efforts. These will not need larger pots until their leaf-span grows to three times the diameter of the pot.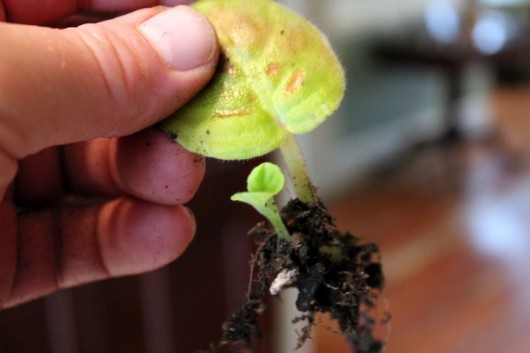 And there are more youngsters to come. But they are too small for potting. I returned the parent and child pictured up top to the Boston lettuce terrarium.
You will find that African violet babies flourish much faster if you give them plentiful light and humidity.  My plants reside on fluorescent-lit shelves in my Writing Room. To provide a humid atmosphere, I set them in make-shift terrariums.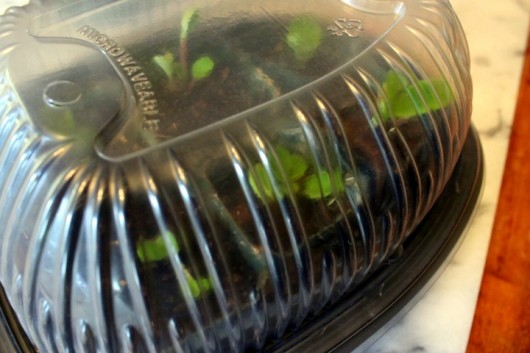 For instance, I set some of my pots in the covered container that rotisserie chicken comes in…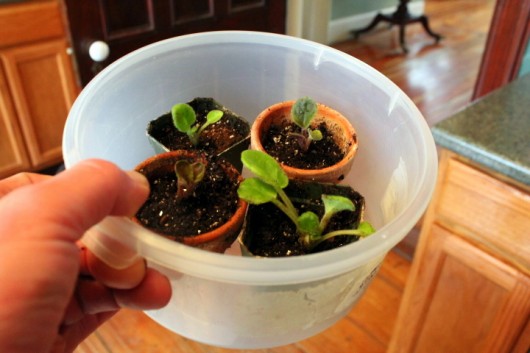 While others were given comfortable quarters in a clear plastic food-storage container with a lid.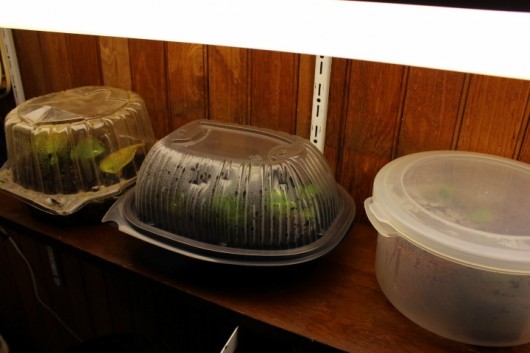 Sealed in such containers, the plants won't require water for at least one month.
However, their time in the rain-forest must be limited.  After four weeks have passed, remove the lids for increasingly-longer periods each day. This way, the plants can adapt to the level of humidity your home affords.
When will they flower? If you give them the care I described in an earlier post, you can expect constant bloom in as little as 6-9 months.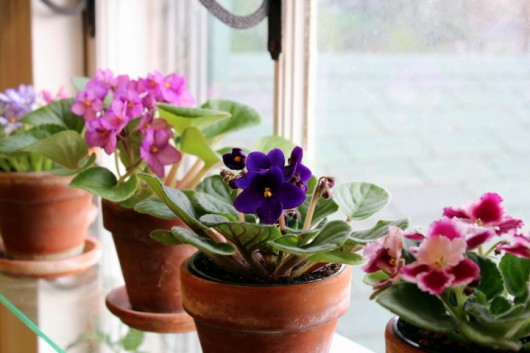 Was this tutorial helpful to you in some small way? Perhaps you can let me know by leaving a comment.
Don't miss anything at A Garden for the House…sign up for Kevin's weekly newsletter.
Related Posts:
African Violets: How I Achieve Constant Bloom
Window Garden: November, 2012
How to Design a Dramatic Window Garden