Last updated on February 25th, 2018
I love sweet potatoes. I love them baked in a pie, mashed in Bubble and Squeak, and shredded for eggs in nifty nests. Fortunately, this beta carotene-rich Impomea batata is extremely easy to grow in a small home garden. All you need is a sense of adventure, and at least one mature sweet potato!
Sweet potatoes are grown from rooted spouts, or "slips." You can buy already-rooted slips from online dealers (you'd be amazed at the different varieties they offer), or produce them all on your own. If you go the DIY route, as I did last year, be sure to start your project a couple of months before your average last frost date.
To start, grab a sweet potato. Or two. Last year, I used organic sweet potatoes from my supermarket. They worked perfectly well.
Next, cut the tubers in half…
And arrange them, cut-side-down, in a baking dish. Then add enough water to reach 1 inch up the sides of the cut pieces.
Alternatively, you can put a whole (or halved) sweet potato in a jar of water, and secure it in place with toothpicks. Set the tuber so that it is half-in, half-out of the water.
Bring the jar or dish to abundant sunlight and moderate warmth, and in  2-3 weeks your Impomea will push out lovely green sprouts.
Note: If your tuber refuses to sprout after 3 weeks, it will claim one of three alibis:
1) It was sprayed, by the seller, with sprout-retardant
2) It is located in a too-cold window
3) It doesn't like you
Another note: If your tuber was sprayed with sprout-retardant, don't despair. Just give it extra time to push out growth.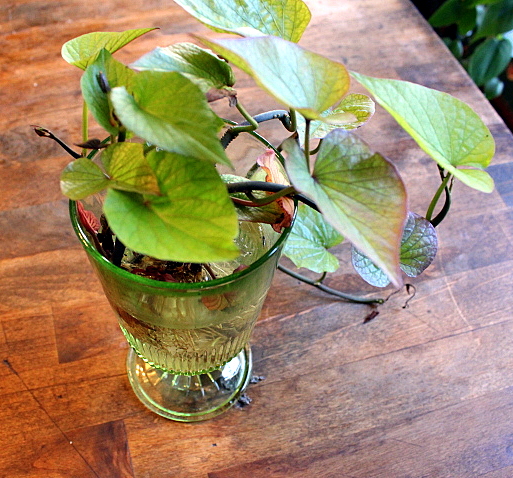 When the sprouts achieve 5-6 inches in length, cut them off, and remove the lower leaves. Then stick the stems in a jar (or a drinking glass) of water. Give the cuttings warmth and light, and they will produce roots in a matter of days. Refresh the water once a week or so.
You can, of course, root the stems in small (2-inch) pots filled with commercial potting formula. Keep the soil evenly moist at all times.
Hardening Off and Planting Out
It is absolutely necessary to harden off the cuttings before planting them out. To do this, bring the slips outdoors to a semi-shaded place in late spring, or when daytime temperatures are in the 60°F range. Bring the slips indoors if nighttime temps are expected to dip below 50°F.  After 3 days, gradually introduce the slips to full sun.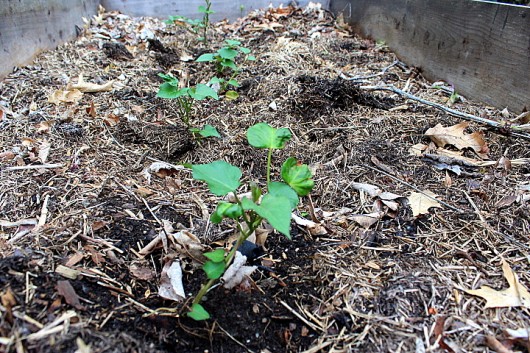 Here in New York's Hudson Valley (zone 5-b), Memorial Day weekend is the usual time to plant out sweet potato slips. Space them about 15 inches apart, and be sure to soak the soil daily until new growth is evident. Then provide 1 inch of water per week. Impomea is a tropical grower that wants full, blazing sun for 100-140 days.
Last summer, my little slips grew with the speed of Jack's infamous beanstalk…
until a woodchuck discovered the delicious leaves. Fortunately, enough leaves remained to nourish the orange roots below. To my surprise, I achieved a substantial crop at summer's end.
To celebrate that harvest, I whipped up some Eggs in Sweet Potato Nests, and washed them down with cold champagne. What a winning combination.
Enjoy this feature? Get my email updates. And to validate my existence, be sure to post your thoughts in the comments section below. I can't always respond to comments, but I always read them!