Last updated on February 13th, 2020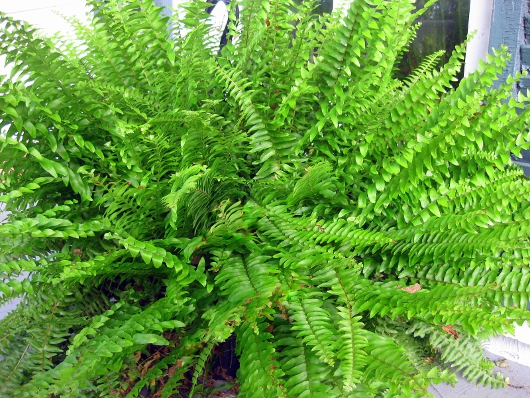 HOW MANY OF YOU are in proud possession of an enormous Boston Fern — and where, may I ask, do you overwinter it? My own pair of Nephrolepsis exaltata (you have to love that name) grew so large and luxurious over summer that I couldn't possibly find winter quarters for them. Not as a pair, anyway. The solution to this dilemma:
One fern was brought indoors and placed on an antique plant stand in my entrance hall. It looks very Victorian there, and appropriate for a house which was built in 1826.
I divided the second fern into several adorably-small exhaltatas. These are incredibly easy to care for, and really fun to display in windows. And when summer rolls around next year, you can bet they will make my porch look like a sumptuous southern veranda.
It's easy enough to divide a Boston fern.
First, let the plant dry out a little. Roots are easier to manage when they aren't wet. Then knock the fern from its pot, and lay it sideways on sheets of newspaper or a piece of cardboard.
Next, using a large serrated knife, slice the rootball in half. Then slice each half into quarters, and slice each quarter into eights.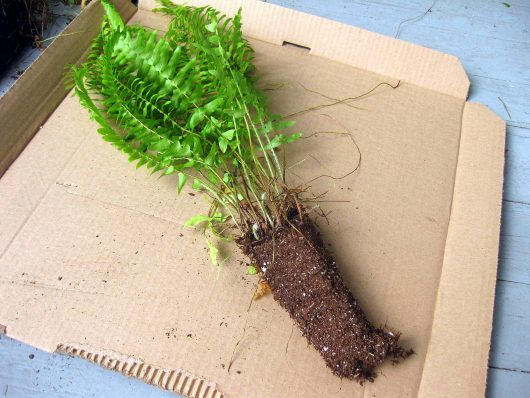 Now cut away a one- or two-inch section, as shown.
From this, cut off all but 1 1/2 to 2 inches of roots. The goal is to have a very small plant that will fit into a 4- or 5-inch clay pot.
Place a piece of broken pottery over the drainage hole of the pot, add a small amount of humussy, very well-draining potting mix, and then center the fern in the pot. Fill in the gaps between pot and roots with more mixture.
Be sure to leave a one inch opening between top of potting mixture and the rim of the pot as a reservoir for water.
Alternatively, if your fern's fronds are not particularly healthy-looking, or it they look out of proportion to your pot, you can cut them off, as above, to reveal only the young, emerging shoots. Pot these babies as described earlier. It's fun to watch these tender fiddleheads unfurl and become graceful green arms. Well, it's fun for me.
As you can see, my 15-minute dividing-and-potting job resulted in 6 "new" ferns. (If I'd continued the job for a full hour, you'd see at least 24 new ferns in the picture above.) Some will be displayed on lamp brackets attached to my various window gardens, and others will be given as birthday and holiday gifts to plant-minded friends. If you live near me, I'll gladly give you one.
Culture: Daily water, cool temperatures (55-65 degrees is ideal) and moderate humidity are the Boston fern's three requests. My plants rest on over-sized saucers filled with pebbles. When the plants are watered, excess drips onto the pebbles and then evaporates as humidity. Clay pots produce humidity too, since they absorb water. If you don't use pebbles, be sure to empty the saucer promptly after watering. A sodden fern is a dead fern.
From October through April exhaltata cherishes the bright but brief sun an east or west window affords. As the light intensifies in May, draw a sheer curtain between window glass and plant, or bring the fern to a bright but sunless northern exposure.
A summer vacation out of doors is welcome once frost has past. You might shift the plant to a hanging basket at this time, and suspend it from your porch roof. Last summer, my pair of Boston ferns framed the wall-mounted fountain in my Herb Garden.
As for food, provide an acidic formula from January through September. I feed mine with every watering, using a pinch (a quarter teaspoon) of Mir-Acid dissolved in a gallon of water.
With such good care, the Boston fern will stay with you forever. A tiny division in two years' time will become a flowing fountain of fronds. Don't be afraid to cut off any unattractive stems — this simply makes room for new, healthy shoots to emerge.
Don't miss anything at A Garden for the House…sign up for Kevin's weekly newsletter.
Related Posts:
The Perpetual Life of Pelargonium Peltatum
Brown Rice, Lentil, and Kale Soup
A Walk in the Late Autumn Garden