Last updated on May 17th, 2022
I adore boxwood.  It's elegant, evergreen, and — when established — drought-tolerant.  Of course, it's also hideously expensive! But you can have a formal Buxus hedge without breaking the bank. Here's how:
When I made my rose garden — a former parking lot —  in the spring of 2005, I could afford only enough boxwood to roughly outline the geometric beds. To fill in between plants, I took cuttings from my purchased stock, and rooted these directly in the ground.
Can you guess what happened?
Well, everything grew! In three short years, the shrubs formed a solid hedge. (I trimmed the older plants to match the newbies grown from cuttings.)
And here is the same garden in 2014, as photographed from my attic window. The ribbons of green are delightful in every season.
How I propagate boxwood:
In spring (or early fall, if you live in a warm climate), take tip-cuttings 6 inches in length.
I always plant 5-7 stems together, just to achieve an instant "shrub" effect.
Remove the lower inch of leaves…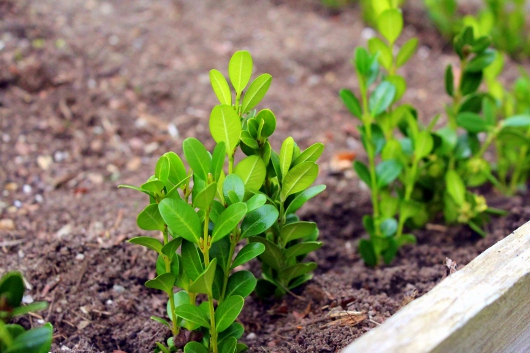 And plunge the stems directly into the ground. Firm the soil around them. Boxwood will grow in any decent soil, but it will grow faster in earth which has been loosened and amended with leaf mold or compost. You needn't worry about soil pH.
The stems pictured above were planted in April, 2014. They made a charming "frame" for the four beds in my tiny herb garden.
The tiny herb garden in question.
Keep the cuttings moist, and they will grow roots in as little as six weeks.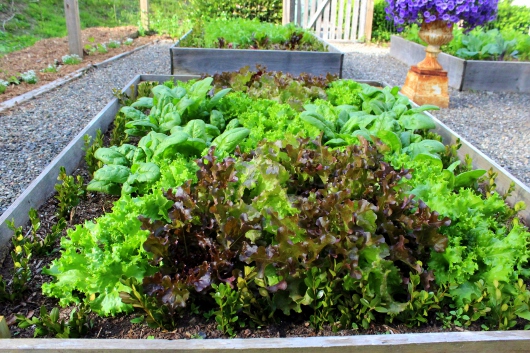 As an aside, I made this neat design with lettuce in one of my boxwood-edged beds.
Thank you for caring.
When new growth is evident, you'll know the stems have rooted.
As I write this, the stems in my herb garden are teeming with new growth. Alas, since I planted them so closely together, I'll have to thin them out next year.
What to do with the surplus?
Well, I honestly don't know. Probably I should sell them to a high-end nursery, and become a millionaire. If you've ever priced boxwood, you'll know I'm not exaggerating.
Well, I hope I've inspired you to propagate your own boxwood. The famous boxwood gardens at Hidcote, England, Villa Lante, Italy, and Valley View (near Carterville), Georgia, were all started from cuttings. So you'll be in darned-good company!
Don't miss anything at A Garden for the House…sign up for Kevin's weekly email updates.
Related Posts:
Kale Pesto – My Way
Spiced Plum Cake
Pear Fritters