Last updated on September 17th, 2019
I LOVE LEEKS. They bring a unique, onion-y flavor to soups, stews and risottos. I find them devastatingly-delicious when braised in chicken stock and vermouth. Fortunately these Alliums are very easy grow.  To achieve a white, or "blanched" stalk, I plant the seedlings this way:
First, obtain leek seedlings which are neither too short nor too tall. A height of 7-10 inches is about right.
Where to find seedlings?  You can produce your own from seed.  They are quick to sprout but initially slow to grow. Plan on 10 weeks before the seedlings achieve transplanting-size.
I take the easy route, and obtain seedlings from my local, organic grower.  The grower sells the young leeks in cell-packs, as pictured above. There are many stems crammed into each cell.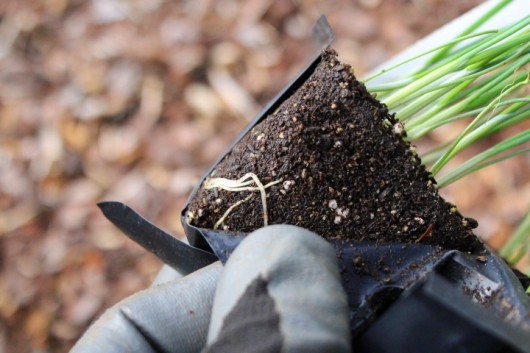 Next, release the seedlings from their cell-pack prison. To do this, tear the thin plastic of each cell, and carefully dislodge the seedlings, all in one clump.
To separate the seedlings without damaging their roots, just drop them in a big bowl of water. Swish them around for a second or two.
Voila! With the soil washed away, the stems can be easily pulled apart.   Return the stems to their bowl of (now-quite-dirty) water.
You may have heard that the roots and tops of leek seedlings should be trimmed before planting. But in my experience, trimmed leeks do not perform any better than un-trimmed leeks.
Do you grow your veggies in raised beds? Good for you. Leeks always perform best in the non-compacted, rock-free soil such beds afford.
Now grab a broom or a rake. The handle will serve as a nifty hole-making-machine, or "garden-dibber."
Plunge the handle into the soil, making holes that are 2-3 inches wide, and 5-6 inches deep.
If the holes won't hold their shape, the soil is too sandy. In that case, amend the bed with shredded leaves, weed-free straw, or compost.  Leeks love a mixture that is rich in organic matter.
Space the holes 6-9 inches apart on all sides.  Leeks need elbow-room in order to develop fat shanks.
In the photo above, you'll notice bits of greenery growing in the path beside the bed. These are not weeds. They are the run-away daughters of day-neutral strawberries that grow in a neighboring bed. I'll cut these rooted runners tomorrow, and reset them as new plants. This, of course, will offend their sense of independence. But that's too bad.
Now take a leek…
And drop it into a hole.
Depending on the length of a seedling, only two inches of growth will be visible above the soil-level. That's perfectly fine.
Now, run back to the house, and retrieve a bright-pink watering pitcher.
Use the pitcher to fill every hole with water.
As the water drains, a small amount of soil will wash down, covering roots but not stems.
And here's the beauty of this planting-system: As the leeks grow, overhead watering (provided either by Nature or a sprinkler) will gradually cause the surrounding soil to refill the holes, keeping the lower stem dark, and thus "blanched."  The blanched part is the most tender, delicious part of a leek.
If, over time, the holes refuse to back-fill on their own, just help them along. Return a little soil to the holes every week or two, as growth becomes evident.
Further cultural details:
When to Plant: You can plant leeks as early as two weeks before your last-expected spring frost. Here in New York's Hudson Valley (zone 5-b), I plant leek seedlings between late-April and mid-May.

Exposure: For the most productive plants, choose a site that receives all-day sunshine. Leeks that are planted in part-shade can not attain their true potential.

Feeding: These alliums are blessed with a healthy appetite. I give them regular sprinklings of Espoma's organic 3-4-4 "Garden Tone."

Water: Like most vegetables, leeks perform best when they receive one inch of water per week.

Mulch: To reduce weeds, and also to increase moisture-retention, mulch the plants after the holes are completely filled with soil. I mulch mine with either shredded leaves or weed-free straw.

Harvesting: When the white part of the stem grows to one inch in diameter, feel free to harvest your leeks.  Most varieties take 90 to 120 days to mature. But you needn't rush to  harvest your crop. Mature leeks are remarkably frost-tolerant, which means you can harvest as needed, usually until the ground freezes solidly.
And here are the leeks I planted, looking handsome indeed by August.
Delicious!
I made this Rustic Leek & Bacon Tart just for you. Here's the recipe.
As you have seen, leeks are very easy to plant. Make the holes I described, refill them gradually, and you'll end up with beautifully-formed, well-blanched stalks.
Was this tutorial helpful to you? You can let me know by posting a comment.  As always, I cherish  your thoughts.
Don't miss anything at A Garden for the House…sign up for Kevin's weekly newsletter.
Related Posts:
Ham Steaks Dijon
Wood Ashes in the Garden
My Joan Crawford-Approved Tomato Trellis