Last updated on September 12th, 2021
Updated September, 2020. Here at Clover Hill (my house in New York's Hudson River Valley), I'm busy storing my home-grown produce for the long, cold months ahead.  And this includes a year's supply of culinary herbs. To best preserve the aromatic oils of the leaves, I rely on these easy, herb-specific freezing-techniques:
How I Freeze A Year's Supply of Herbs
Herbal "Cigars".  This is a great way to freeze lovage, sage, Italian parsley, and other large, flat-leaved herbs.  To use,  simply cut off a portion of the cigar, and return the rest to the freezer-bag and seal it tightly. Here's how you roll them:
Remove stems from sage or flat-leaved parsley. Rinse the leaves if you must, but then pat perfectly dry by blotting with a terry towel (wet leaves tend to blacken or turn to mush when frozen).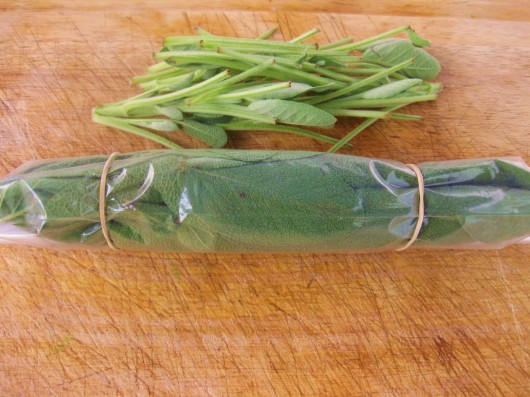 Pack the leaves into a zip-lock bag (I use quart-size bags), and then roll the bag up tightly, cigar-like, forcing out air as you work. Seal the bag, tie it with rubber bands, and then freeze.
Well, I told you that was fun.

Pesto Cubes. These are ideal for tender-leaved herbs such as basil (above) and oregano, which tend to lose their flavor if not suspended in a liquid of some sort.
Chop 2 cups of leaves with 1/2 cup (or so) of olive oil in the food processor, then spoon this "pesto" into ice-cube trays. After cubes have frozen solidly,  transfer to freezer-bags. Some time during winter, thaw a few cubes, then blend with garlic, pine nuts and parmesan cheese, and poof! — you have pesto for your pasta. You can also drop the cubes in simmering soup.
To Freeze Woody-stemmed Herbs. To store rosemary and thyme, which have tough, woody stems, I first remove the leaves, using this neat trick:
Cut sprigs from plants, lay them out on a paper-towel-lined baking sheet, and flash-freeze. One day later, give the sprigs a toss. If you are lucky, almost every leaf will shake loose from its stem. Discard stems, shape the paper towel into a funnel, and pour the leaves into air-tight jars or plastic tubs, then freeze. You can use this herb in my Thyme and Wine Beef Stew (click here for the recipe.)
With herbs in your freezer, you won't have to rely on  limp and tasteless (and shockingly-expensive)  "fresh" herbs  from the  supermarket. When cooking, use frozen herbs exactly as you would fresh.
Frozen herbs will retain their flavor for up to one year.
In the comments field below, I hope you'll tell me which herbs you grew this year, and whether or not you intend to preserve them for winter use. As always, I love hearing from you.
Don't miss anything at A Garden for the House…sign up for Kevin's weekly newsletter.