Last updated on October 21st, 2019
HERE AT A GARDEN FOR THE HOUSE, I'm busy potting tulips for indoor winter bloom.  Tulipa 'Christmas Dream,' pictured up top, bloomed in my bedroom window one February. What a thrill to see the pastel-pink petals against a background of snow! Tulips will bloom at the wrong time of the year for you, too, providing you pot the bulbs in early autumn. Here's my fail-proof forcing guide:
In my experience, early-single varieties are the best tulips for coaxing into winter bloom. Besides  pink 'Christmas Dream;'  I've also successfully forced the white-edged, pink 'Quebec,' and the deep-pink 'Purple Prince' (pictured above, in my music room window).
Obviously I'm drawn to pink tulips.
You might prefer  yellow, white, red, or variegated tulips.  Choose a color which makes your spirit soar.
1. Potting – A squatty, 6-inch diameter "azalea" pot provides comfortable quarters for 5 tulip bulbs. Place a piece of broken pottery over the drainage hole, and then fill the pot half way with any well-draining potting mix.
2. Planting – On the surface of the soil, arrange the bulbs with their pointed tips up, as above. Then add more soil to just cover the bulbs. When all is finished, you should have a one-inch opening between soil and pot rim to allow for future watering.
3. Soaking – In a sink or dishpan filled with water, immerse the pot to within an inch of its rim, and let it remain there for several minutes, or until the surface soil looks and feels wet. Avoid top watering until roots have formed, lest your careful planting-arrangement become undone.
4. Chilling – Tulips insist on 12 weeks of darkness and a cold temperature (35-45 degrees) while roots grow. Some years I set the potted bulbs in my spare refrigerator. Other years they go into the closet in my unheated mud-room. If your cellar stays reliably cold but above freezing, you can  place your bulbs there.
Now, if you decide to place the bulbs in your refrigerator, be sure to keep fresh fruit out. Why? Because ripening fruit gives off ethylene gas, which can sterilize bulbs.
Check weekly for water. The soil should remain moist, but not so saturated as to invite rot during the rooting-period. Top-watering is fine.
5. Bring the bulbs to a sunny, cool window.  In January, transfer the tulips to a  window that receives full sun.  Try to keep temperatures on the cool side — 65 degrees maximum. Flowers will emerge about 4 weeks later.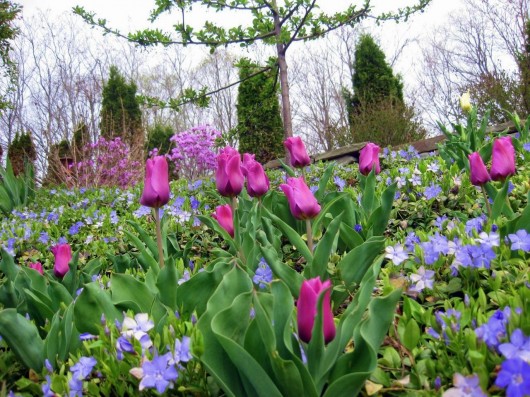 Subsequent care.  Tulip bulbs can have a fine future if you continue to care for them after their blooms fade. Cut off dead flowers, but provide food and water until the foliage withers. I feed mine with a low-nitrogen, high-phosphorous formula, at the rate of one 1/4 teaspoon per gallon of water.
When the foliage starts to yellow, withhold all food and water.  Then, once  the soil has completely dried out, you can remove the bulbs and store them in dark, dry, and cool location. In autumn plant the bulbs in a sunny spot outdoors. In two years time they will bloom as if they had never known the inside of your house.
Let me know if you feel inspired to coax a few tulips into early bloom. You can't imagine how much pleasure you'll receive when the flowers open during a February blizzard.
Don't miss anything at A Garden for the House…sign up for Kevin's weekly newsletter.
Related Posts:
Forcing Hyacinths in Bulb Vases
Tip-Toe Through the (Species) Tulips
Narcissus 'Winter Sun'