Last updated on March 29th, 2018
What do blueberries, rhododendrons, and azaleas have in common?  They all want acidic soil!  To keep my tiny blueberry patch in happy (and productive) health, each spring I pour acidifying halos around the shrubs. The details:
If your soil is naturally acidic, with a pH of 4.6 to 5.5 (as determined by a soil test), you're good to go, as far as blueberries are concerned. Otherwise, if your soil is alkaline, or "sweet,"  meaning its pH is 6.0 or higher, you'll need to amend it.
And speaking of amendments! I keep hearing that pine needles and oak leaves will lower the pH of soil, and make it acidic. But that old wives' (husbands'?) tale was debunked by scientists several years ago. Unfortunately, the myth persists.
Now, before we add our acidifier, let me offer you 7 tips for blueberry success:
Tip #1: Consider the real estate. Although blueberries will grow in part shade, they will grow even better in full sun.
Tip #2: Before planting, work plenty of organic matter into the soil. I added shredded leaves and peat moss to my boxwood-edged bed.
Tip #3: Never plant just one shrub! Cross pollination of different varieties will give you more and bigger fruit. I grow early-, mid-, and late-season varieties.
Tip #4: Even if it pains you to do so, remove flower buds the first two years after planting. Otherwise, growth will be slow, and the shrubs will never amount to anything. I speak from experience.
Tip #5: After three years have passed, winter-prune while the bushes are dormant. Pruning forces the plant to produce extra fruiting branches. Click here for pruning advice from Ohio State University.
Tip #6: Mulch the bed with 2- or 3-inches of…something. Over the years, I've relied on shredded leaves, pine needles, and wood chips to mulch my blueberry patch.
Tip #7: Provide adequate moisture. Blueberries, like most plants, prefer 1-2 inches of water per week.
Now back to the topic of this article — acidifying the soil.  I love Espoma's organic Soil Acidifier. It contains sulfur, derived from elemental sulfur and gypsum. You can buy the product at most garden-supply stores. To save a few bucks, I order it directly from this online source. 
Application is a breeze:
First, grab a measuring cup…
And fill it with the acidifying granules.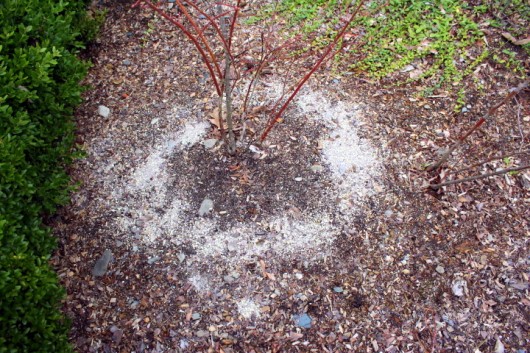 Then pour the granules in a circle around the drip line of each shrub. The drip line is the outermost edge from which water would naturally drip. Feeder roots are concentrated there.
Rates. For young shrubs, use about 1 1/4 cups acidifier. For larger shrubs, use 2 1/2 cups. Repeat the procedure every 60 days or so, or until you achieve the correct pH for your blueberries — 4.6 to 5.5.
Watering-in. To move the amendment from ground level to feeder roots, just water it in with the spray attachment on your garden hose. Or, let spring rains wash it down.
When you are finished, your shrubs will gush with gratitude.
And what do I do with my blueberries besides shoveling them into my mouth?
I turn them into these screamingly-delicious Blueberry Bars (here's the recipe)…
And this Frozen Blueberry Yogurt Pie (here's the step-by-step)…
And this divinely-decadent "Buckle" (get the recipe).
Was this article was helpful to you in some teeny-tiny way? You can let me know by leaving a comment.
Want more cooking, gardening, and old-house-living articles? Get my email updates!
Related Posts:
First Aid for Non-Blooming Daffodils
Flower Arranging: A Dramatic Summer Centerpiece
House Tour: The Entrance Hall